The organizers of a political prize in Germany have cancelled their annual award ceremony this year after their decision to honor Russian Prime Minister Vladimir Putin ignited a public backlash among former award recipients and German politicians.
The Quadriga Prize, organized by the group Werkstatt Deutschland, honors four figures every year "whose thoughts and acts are built on values, values which conduce vision, courage and responsibility," according to Quadriga's website.
Quadriga's board of trustees had decided to honor Prime Minister Putin for "his service to the dependability and stability of German-Russian relations." The prize is awarded on October 3 every year, the day Germany celebrates the reunification of east and west after a generation of Cold War division.
Public outcry
Former president of the Czech Republic and previous Quadriga recipient Vaclav Havel had threatened to return his prize should Putin be honored. Germany's Green Party Chairman Cem Özdemir and Wikipedia founder Jimmy Wales had declared their resignation from Quadriga's board of trustees in protest against Putin receiving the award.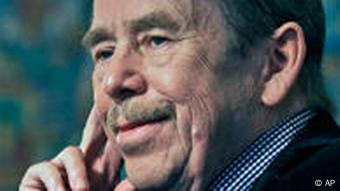 Vaclav Havel threatened to return his Quadriga Prize
The board said it was "particularly effected by the massive criticism in the media and parts of the political world," adding that it regretted that "the public reporting concentrated exclusively on one person."
Palestinian Prime Minister Salam Fayyad, Mexican Foreign Minister Patricia Espinosa and Turkish-German author Betül Durmaz were also slated to be honored at the October ceremony.
Meanwhile, the Kremlin said that Quadriga's decision would not negatively impact the relationship between Berlin and Moscow.
"This does not have anything to do with German-Russian relations," Dmitry Peskov, Prime Minister Putin's spokesman, told the news agency AFP. Peskov went on to say that the Russian government would "handle all decisions of the organization with respect."
Prime Minister Putin served as Russia's president from 2000 until 2008. He has been criticized for restricting press freedom, rolling back democratic reforms and abusing human rights.
Author: Spencer Kimball (AFP, dapd, dpa)
Editor: Andreas Illmer