At least four of the journalists who had their press accreditations confiscated by police at the G20 summit last Friday had worked in the Kurdish regions of southeastern Turkey, raising suspicions in the German media that the Turkish government may have pressured German authorities into shutting them out.
According to reports by German public broadcaster ARD and the Süddeutsche Zeitung, the journalists' press passes were taken off them without explanation, even after they had been in and out of the secured area around the conference center in Hamburg where the summit was held.
Chris Grodotzki, a photographer for Germany's Der Spiegel, told DW that he had picked up his accreditation normally on Wednesday, but on trying to re-enter the conference center on Saturday had been faced with police officers carrying a two-page list of names that they said they had been given them by Germany's Federal Criminal Police Office (BKA).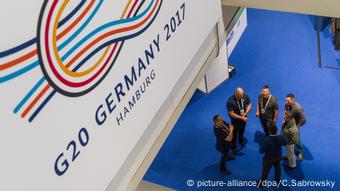 Some 32 journalists had their press accreditations confiscated by German police
No reason given
Grodotzki said the officers were systematically checking all journalists going into the center. "Then they told me they can't let me go in, and put me in a closed tent to one side, where I sat for a while, and then the superiors came and told me that the accreditation had been cancelled," said Grodotzki. He added that he was not asked any questions by the officers, and that they themselves did not seem to know why the accreditations were being confiscated.
The German government has refused to release the police's list, for "data protection" reasons, though Grodotzki said it was no problem for him to see it at the time, and believes the press reports that around 32 names were on it sounded accurate.
Nine of the journalists, who were mostly German, were later told in writing by the BKA that they were being shut out of the event "in consultation between the participating authorities."
According to the Süddeutsche Zeitung, four of these nine had previously worked in the Kurdish areas of Turkey, even though German government spokesman Steffen Seibert insisted on Tuesday that the authorities mentioned in the letter were all German - and did not belong to any foreign government.
What has raised particular suspicion is that Grodotzki was arrested in 2014 in southeastern Turkey along with another German journalist, Björn Kietzmann of the Action Press agency, who had his accreditation confiscated in Hamburg. The pair had taken photos near Kobane, a Kurdish city on the Turkish-Syrian border, and were arrested in Diyarbakir, one of the largest Kurdish-dominated cities of southeastern Turkey, where they were held for 31 hours and accused of espionage.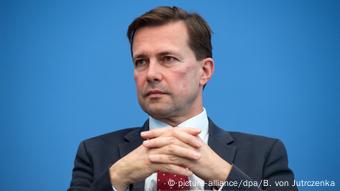 German government spokesman Steffen Seibert said that the black list would not be released
"It's certainly suspicious, when you and a colleague who were both in Turkey at the same time had their accreditation confiscated - the thought does pop up naturally," said Grodotzki. "I can't prove it."
The plot thickens
"I can only speculate of course, but that does seem strange to me," Kietzmann said. "It could be that they dug up information about how I went to demonstrations ten years ago when I was a student - I've no idea." But if that was the case, he points out, why had he been granted an accreditation for the G7 summit in Bavaria in 2015, and why had he been allowed to accompany German troops in Afghanistan in 2012? "It would surprise me if they'd now decided I was a security threat because I went to demonstrations in 2005," he told DW.
Kietzmann also said he had applied for his accreditation on June 15, and had received approval shortly afterwards - surely, he said, any security background checks on journalists should and would have been carried out then.
The pattern was repeated elsewhere: Willi Effenberger, a photographer for the Junge Welt newspaper who also had his accreditation confiscated, told the taz newspaper that he had once been arrested in Turkey, and had taken photos in Diyarbakir.
Adil Yigit, a Turkish journalist for the Avrupa Postasi outlet, who also had his G20 accreditation confiscated, told the taz newspaper, "I think the Turkish side is behind this. The head of the Turkish secret service Hakan Fidan was with [Turkish President] Erdogan in Hamburg on Thursday. I took photos of both of them and reported on it. I think the Turkish intelligence agency passed that on to their German colleagues."
At Monday's regular government press conference, German Interior Ministry spokesman Johannes Dimroth refused to say what security risks the journalists represented at the G20, or even what kinds of security risks journalists might represent, on the grounds that this would infringe the privacy rights of the journalists involved.
Dimroth insisted, however, that the confiscation was "in no form meant as a criticism of their reporting." The confiscations were "exclusively for security reasons."