The Malta-based Migrant Offshore Aid Station (MOAS) on Monday cited an "increasingly complex context" for its decision to suspend operations to rescue migrants in the Mediterranean.
MOAS criticized the EU's efforts to stem the latest wave of migrants plying the main route from Libya to Italy or Spain, amid attempts by Brussels to force Libya to take refugees back and hold them in processing centers.
Returnees at risk
The charity said Libya was not a safe place to return the migrants and that conditions were basic.
"At the moment it is unclear what is going on in Libya to the detriment of the most vulnerable people there," the charity said in a statement.
"MOAS does not want to become part of a mechanism where there is no guarantee of safe harbor or welcome for those being assisted and rescued at sea," it added.
Instead, the aid group said it would transfer its rescue ship Phoenix to the Bay of Bengal to help persecuted Rohingya Muslims fleeing Myanmar.
Since it began operations in the Mediterranean in 2014, MOAS has helped in the rescue or transfer of some 40,000 migrants. In that period, some 600,000 boat migrants have reached Italy.
Read more:
Amnesty warns that 'reckless' EU policy puts Mediterranean migrants at risk
EU limits boat sales to Libya in effort to stem migrant flow
But its work has been complicated in recent months by a stepped up response to the migrant issue by European governments. The EU is funding a project to equip and train the Libyan coastguard, whose boats have fallen into disrepair following years of neglect in the wake of the fall of longtime dictator Moamar Gadhafi. The Italian navy has been deployed in recent weeks to repair Libyan ships.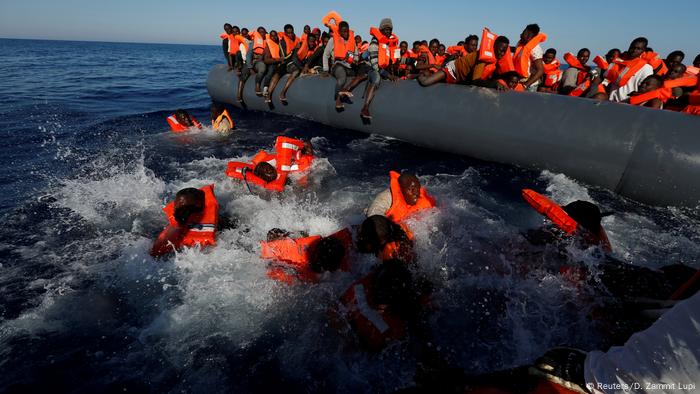 The number of migrants plying the Mediterranean have fallen dramatically this summer following an EU deal with Libya
MOAS becomes the fourth group to stop patrols in the Mediterranean amid rising tensions with Libya and Italy over where rescued migrants should be taken.
Last month, a Libyan coastguard boat intercepted a charity ship and ordered it to sail to Tripoli or risk being fired on. In response, Doctors Without Borders, followed by Save the Children and Germany's Sea Eye suspended their operations. They said their crews could no longer work safely.
The exodus leaves just Proactiva Open Arms, Sea Watch and SOS Mediterranee still running rescue operations. On Monday, the Aquarius, operated by SOS Mediterranee, was the only rescue ship in the Mediterranean.
The aid groups have also faced accusations of collusion with people smugglers in North Africa, which all 10 charities have denied.
Since July, there has been a sharp drop in departures from the Libyan coast. Some 15,373 migrants arrived in Italy by boat in July and August, compared with 44,846 in the same period last year.
Some 13,000 migrants have died in the central Mediterranean since 2014 trying to make the crossing, the International Organization for Migration estimates.
The transfer of MOAS' operations to Asia comes as some 90,000 Rohingya Muslims have fled violence in Myanmar's Rakhine state to neighboring Bangladesh.
The impoverished region has seen a decade of communal tensions between Muslims and Buddhists, with the Rohingya forced to live under apartheid-like restrictions on movement and citizenship.
Read more:The Rohingya in Myanmar: what you need to know
The latest flare-up in violence is the worst in years. It began last October when a small Rohingya militant group ambushed border posts leading to a bloody response from the army.
MOAS said it planned to provide aid and humanitarian assistance to the Rohingya people.
mm/bw (AFP, dpa, Reuters)