The German Tafel food bank came under fire again on Thursday, after it was revealed that a branch of the NGO in the western German town of Marl was turning away young, single men.
Peter Cremer, chairman of the board of trustees at Tafel Deutschland's Marl branch, said the rule was introduced midway through 2017 after an influx of refugees stretched the local charity's resources to their limits.
Read more: Welfare state: Who's bigger on benefits, Germany or the UK?
The regulation applies to both German and foreign young men but does not affect families and single parents with children or retirees, Renate Kampe, chairwoman of the Marl Tafel, told DW.
The NGO collects groceries from supermarkets and restaurants that are approaching their use-by date and gives them to people in need.
Last week the Essen branch of Tafel (the German word for "table") was in the spotlight for turning away non-German recipients because elderly people and single parents reportedly felt uncomfortable around them at distribution centers.
Jörg Sartor, chairman of the Essen Tafel, said last week that the rules had been changed because 75 percent of the about 6,000 people who came to pick up food from the Tafel locations across the city of Essen were foreigners.
Read more: The true cost of Germany's cheap food
"I was approached several times because there was too much pushing and shoving," Sartor told DW. "I want the people here to behave in an orderly way toward each other. And when there isn't an equal balance [of Germans and foreigners], that doesn't work."
The outcry that ensued in Germany following the revelation of the Essen branch's policy has prompted Tafel to hold a crisis meeting on Tuesday, where it was decided that the policy would be reviewed at a roundtable meeting in the next two weeks.
The Tafel branch in Marl stressed that their policy was not the result of racism but a choice to put families — regardless of nationality — at the top of their list of recipients.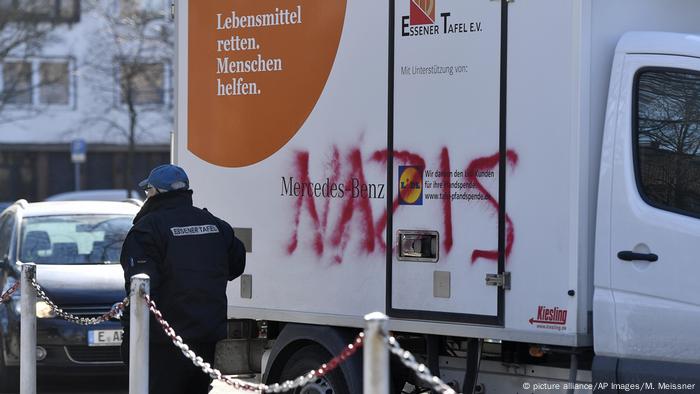 Tafel's decision in Essen to turn away people without German citizenship resulted in a backlash from the public
"The main problem is that we do not have enough supplies," said Kampe, stressing that behavior was not a problem among food recipients.
Across Germany, there are more than 930 "Tafeln." To receive food, you need to receive state assistance such as unemployment payments. People who are eligible receive a one-year membership card for their family that allows them to come to a food pickup at a specified time once a week.
law/sms (dpa, EPD, KNA)