World Hunger is on the rise after years of steady decline, warns a UN report released Friday.
Most of the world's hungry people are in Asia and Africa, with 520 million and 243 million, respectively. But proportionally Africa is hardest hit, with 20 percent of people not having enough food - in Asia the ratio is 11.7 percent, according to the reported prepared by the Food and Agriculture Organization of the United Nations, the International Fund for Agricultural Development, the United Nations Children's Fund, the World Food Program and the World Health Organization.
Overall, the number of chronically hungry people rose to 815 million, or 11 percent of the world's population, in 2016. The figure represents an increase of 38 million over the previous year.
It remains to be seen if the change is the start of a new trend or a one-off aberration, but the report attributes the increase to man-made conflicts, a sputtering economy and climate change.
World hunger peaked in 2000 when 900 million people didn't have enough food. Still, the UN warned the latest figure "is cause for great concern."
Some 20 million people are at risk of famine in parts of South Sudan, Somalia, northeast Nigeria and Yemen where violent conflicts have created much of the food crisis.
But a slowdown in global growth in recent years, which led to a collapse in the prices of numerous commodities, also had a negative impact on the ability of people in many countries to feed themselves, the UN report said.
"Economic slowdowns in countries highly dependent on oil and other primary commodity export revenues have also had an impact on food availability and/or reduced people's ability to access food," said the report.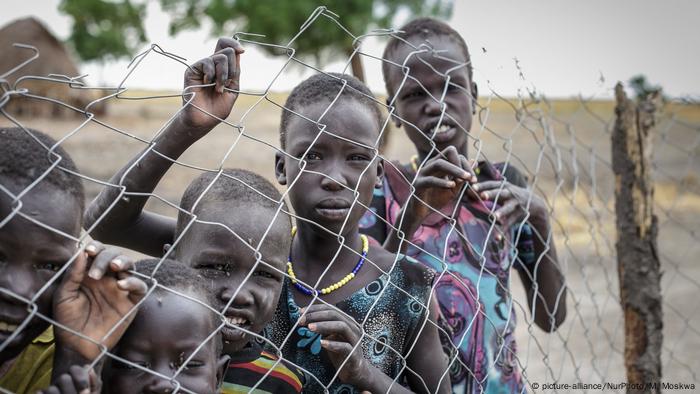 Children in South Sudan await a humanitarian aid distribution in 2015
Global warming and hunger
The report also points to a link between climate change and conflict.
It "singles out conflict — increasingly compounded by climate change — as one of the key drivers behind the resurgence of hunger and many forms of malnutrition," said a joint statement by the UN agencies which drafted the report.
"The concurrence of conflict and climate-related natural disasters is likely to increase with climate change, as climate change not only magnifies problems of food insecurity and nutrition but can also contribute to a further downward spiral into conflict, protracted crisis and continued fragility," said the report.
It attributed severe weather, "in part linked to climate change" to the reduced availability of food in many countries
Scientists are hesitant to attribute any one weather event to climate change but there is near unanimity that rising temperatures increase the severity of storms and droughts.
bik/sms (AP, AFP, Reuters, dpa)