A severe drought is ravaging the Horn of Africa, with at least 17 million people facing hunger across eight countries, including Somalia, Ethiopia, Kenya, Djibouti, Eritrea, South Sudan, Sudan and Uganda.
DW spoke with Asia Abdulkadir from the German children's aid organization, Kindernothilfe (KNH), about her work on the ground in Somalia.
DW: Can you explain the current situation in the Horn of Africa and what you witnessed on the ground?
The Horn of Africa has been experiencing a recurring drought since 2011. According to the UN, at least 40 percent of the population in Somalia does not have enough food and children are the most affected. When I visited some of the villages in March there were animal corpses everywhere and very sick and weak children at the medical station who were suffering from diarrhea.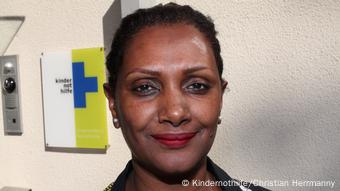 Asia Abdulkadir is the coordinator for Kindernothilfe in Somalia
You mentioned that children are suffering the most. What long term consequences will this have?
We are currently dealing with an epidemic of diarrheal disease. According to the UN, at least 5.5 million people are vulnerable due to contaminated water supplies and children are more likely to be affected by this. Because of this, many children are not attending school. It is unbelievable. Social stability is also affected as we continue to see families torn apart and there is an increase in the number of children living on the street, especially in urban areas.
If children are not going to school, what does this mean for their future?
Part of our work includes trying to encourage families to motivate their children to attend school and respect their children, because they are the future of this country. If not, we may be looking at a lost generation emerging. Children who do not attend school because of health problems will have a difficult start to adulthood if they are missing this important part of life.
Should the international community have responded earlier?
Yes. In the case of Somalia, the government appealed to the international community in November last year for something to be done because conditions were worsening. Many of their animals had been lost. We needed to act earlier - we had a similar situation in 2011 but unfortunately people often react only after we begin to see pictures in the media of dead children. Otherwise the situation gets played down too much.
What can be done to prevent a recurrence of a humanitarian crisis like this?
We continue to work on long-term projects in the region. Many of our projects deal with the topic of genital mutilation. But organizations are often put under pressure to succeed in their aims after three years or so. It is very difficult when aid groups are told that they have three years and 100,000 euros to stabilize the farming situation or abolish female genital mutilation (FGM). So our present approach focuses more on collaboration and developing projects which can be adapted for long-term use. We need to have a trusting relationship with the population so we can work alongside them and take their needs and concerns seriously.
Is it possible to reach a long-term solution when if there is no political stability in the Horn of Africa?
Well if you take Somalia as an example, it is politically stable. But there are many other countries in the region such as South Sudan where there is no political stability. But drought is also a big problem there, so you need to try and address that as well. People need to be able to promote functioning civil society governments. But it is still important to maintain a long term perspective to deal with issues like climate change. We can also see in places like Somalia that there is a strong, functioning diaspora - people who live abroad and work to send money home to support their communities. In this difficult situation though, that aid is not enough. Without international support, it will continue to get worse.
Interview by Daniel Pelz
Asia Abdulkadir is the KNH coordinator for Somalia