Israel's Netta Barzilai won the 63rd Eurovision Song Contest on Saturday night in Lisbon, Portugal.
After the announcement and before a repeat performance of her winning song "Toy," Netta cried out to a wildly applauding audience, saying: "Thank you for accepting differences between us. Thank you for celebrating diversity!"
Performers from 26 countries took the stage for the grand final of the annual music competition, which at one point was interrupted by a stage invasion.
An intruder, now in police custody, leapt onstage during the performance and tried to wrest the microphone from singer SuRie of the United Kingdom. The country's delegation was given the option to have her perform again, but they declined.
Read more: Israel and Cyprus battle it out for Eurovision crown
Audience kept on edge
It was a highly suspenseful evening. With each announcement of the jury vote, a different country took the lead. Further upsets arose as the points awarded by the audience vote were announced, before Netta, an early favorite, settled in as the winner.
A dynamo in a kimono with her loop station and crazy chirping antics, Netta delivered a message that fit the Eurovision theme of diversity. The song is also an indictment of sexual harassment of women, with the key message: "I'm not your toy, you stupid boy."
Read more: Will it be 'douze points' all round for Netta?
"I'm embarrassed because I've never been a favorite," said Netta in a pre-concert interview when asked about her competition status. "I've always been an underdog. It's a peculiar feeling, but it's also nice and heartwarming."
She went on to explain her artistic approach, as reflected in the vocal quirks and bizarre electronic effects in her song: "I just do what feels right, breaking out of the box. This is how we should do art, to evolve as a people, as a population, as an artist. If you always stay in the same place, nothing will happen."
Read more: Forget Eurovision – Lisbon's heart beats and bleeds for fado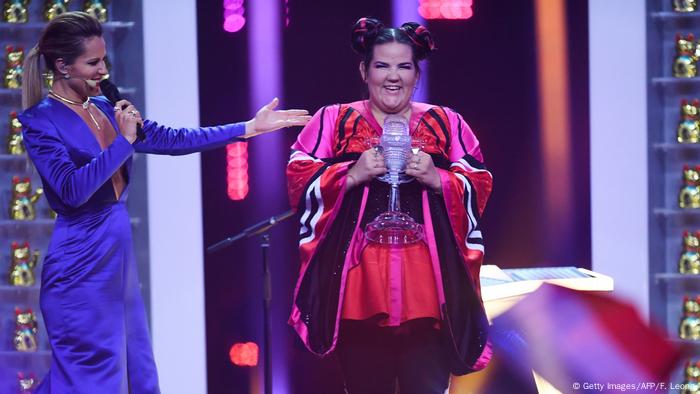 The 25-year-old Netta Barzilai beat out competition from 42 other countries to win Europe's top music prize
Solid performances and diversity
Israel's win at 529 points was followed by Eleni Foureira from Cyprus in second place (436 points). Austria (342 points) ranked third, Germany (340 points) came fourth and Italy (308 points) fifth. The other countries in the top ten, in descending order, were the Czech Republic, Sweden, Estonia, Denmark and Moldova.
Otherwise, Saturday's night's spectacle was firmly in Portuguese hands, opening with the melancholy strains of Ana Moura's voice in traditional fado song. Then, another female fado singer, Mariza chimed in, backed up by drums.
One of the evening's most emotional moments centered on last year's winner, Salvador Sobral. Looking healthy after having undergone a heart transplant last December, he fulfilled a dream by teaming up in a duet with 75-year-old Brazilian superstar Caetano Veloso in a rendition of Sobral's winning song.
As for the countries in competition, German fans were elated over Michael Schulte's fourth place. Over the past week in Lisbon, Schulte had steadily risen in the betting agencies' ratings. With glassy eyes, he performed his highly emotional song "You Let Me Walk Alone," which is about having lost his father at an early age. The song, the singer, delivery, message and production were flawless.
Read more: Eurovision's most bizarre stage costumes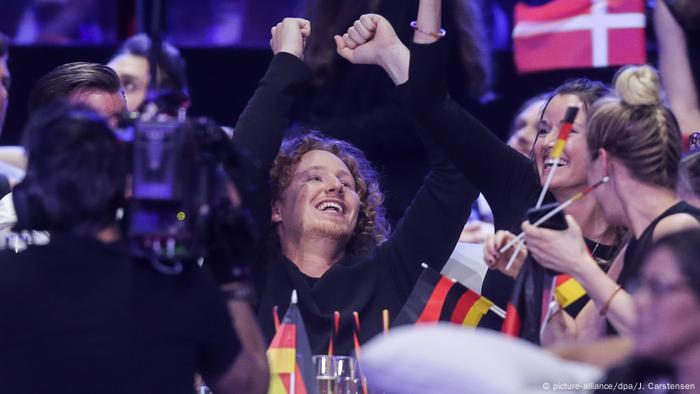 YouTube sensation Michael Schulte became a contestant on The Voice of Germany before entering Eurovision
Other top favorites
One of the last countries to join the Eurovision Song Contest, in 2007, the Czech Republic has performed poorly every year since. This time, the country served up a strong entry with "Lie to Me" by Mikolas Josef, which came in sixth. Flanked by break dancers, Josef did a successful back flip despite a back injury just over a week ago. His song was marked by rap and a catchy refrain.
Cyprus's Foureira, a resident of Greece, was clad in a tight-fitting cat suit, shaking her hips to the song "Fuego" in a performance that many had thought would win.
Finishing last, with 39 points, was host country Portugal's entry, sung by Claudia Pascoal.
Altogether, it was a year of diversity for the contest, with Italian singers Ermal Meta and Fabrizio Moro lamenting the terror attacks of past years, but also delivering a message of defiance in the song "Non mi avete fatto niente" (You haven't taken anything from me.)
Read more: Eurovision cuts feed to China's Mango TV over censorship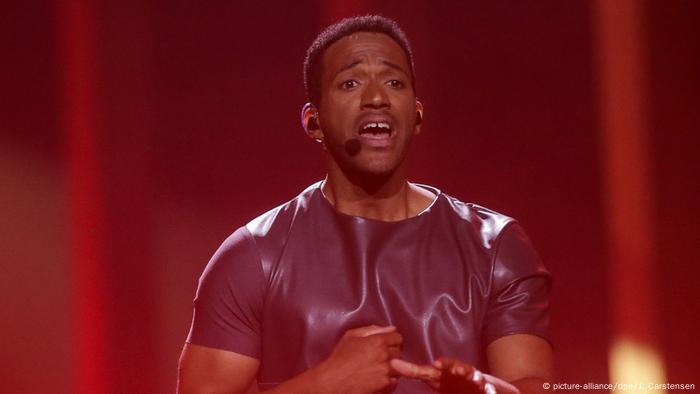 Austria's Cesar Sampson led the jury voting with his song Nobody But You, but came third overall
Third-place winner Austria was represented by Cesar Sampson, who after descending from a Star Trek-style platform did an athletic walk; his husky soul voice backed up by a gospel choir in the song "Nobody But You."
Netta's victory means next year's Eurovision Song Contest will be hosted by Israel. At the post-competition press conference, some already cried out "Jerusalem!", but the actual city where the 64th Eurovision Song Contest will take place has not yet been officially announced.