Traditional Eurovision fans were holding their breath for Saturday night's grand final, after organizers of this year's song festival promised to focus more on the music and less on glitz, outlandish costumes and other gimmicks.
The 63rd Eurovision Song Contest, which is being held in the Portuguese capital, Lisbon, will see 26 countries face off for the crown, which is being billed as a more stylish, elegant event than in previous years.
DW's Sertan Sanderson, who is live tweeting from Eurovision, posted images of the opening song.
Among the bookies' favorites to win is the fiery tune "Fuego" by Eleni Foureira of Cyprus, and Israeli singer Netta Barzilai's "Toy." Ireland, which holds the record for winning the contest seven times, is in third place.
Read more: Forget Eurovision – Lisbon's heart beats and bleeds for fado
Less kitsch, more glamor
Despite promises of a classier affair — and no dancing gorilla unlike last year — Barzilai is still expected to do a fair amount of warbling, clucking sounds and chicken-like dance moves.
Cypriot contender, Foureira, will aim to win over the judges and voters at home with plenty of pyrotechnics while wearing a sparkling cat suit.
Other highlights will include Denmark's red-bearded Rasmussen, whose song is based on a legend about a Viking who refused to fight, and Estonian soprano Elina Nechayeva, whose long-flowing dress will come to life with lights and lasers while she sings.
DW's Rick Fulker, who will be reporting from Lisbon immediately after the event, says Eurovision is one of the most-watched TV spectacles in the world.
Read more: Eurovision's most bizarre stage costumes
TV rights controversy
Even before the opening song played, the contest organizers courted controversy by pulling the broadcast rights for the final from China's Mango TV, after it refused to air Ireland's performance during the semi-final, which featured two men holding hands.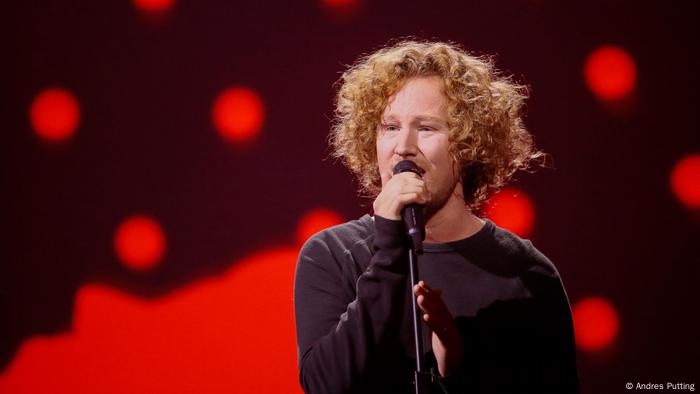 This year's German entry is from Michael Schulte with the ballad You Let Me Walk Alone
Twenty countries won a place in Saturday's final after two semi-finals earlier this week, while Britain, Italy, Spain, France and Germany automatically reached this stage as they are the biggest contributors to the European Broadcasting Union, which puts on the annual show. Host nation Portugal also automatically qualified.
Read more: Our favorites at the Eurovision Song Contest
Lisbon has spent €20 million ($23.8 million) to stage tonight's contest after its entry, a solo ballad by Salvador Sobral, won last year's event in Ukraine.
Viewers and professional juries in all 43 participating countries will pick the winner.
Eurovision was first held in 1956 with the aim of uniting Europe after World War II. Today it has a combined global audience of around 200 million people — and has been responsible for launching the careers of ABBA and Celine Dion, among others.
mm/rf (AFP, AP, dpa, Reuters)