It's one of the most ambitious green energy projects to date. It would harness the sun and space of the North African desert to power the kitchen appliances and factories of Europe.
The idea has been around for some time, but the German insurance giant Munich Re brought it one step closer to reality on Tuesday, announcing a meeting on July 13 in Munich to launch the so-called Desertec concept.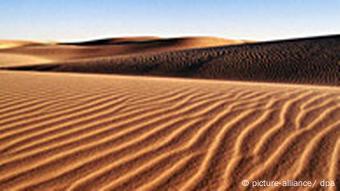 North Africa has the sun; is it stable enough politically?
Up to 20 major German companies could take part in the project, including Deutsche Bank, the utility companies RWE and E.ON, and the engineering firm Siemens. Other German, Italian and Spanish companies are also on board, and have been invited to next month's meeting along with representative of the German government, the Arab League and the Club of Rome think tank.
Big plans
At a cost of some 400 billion euros – around half a trillion dollars – the project would be a colossal undertaking. Experts have estimated that an investment of this scale could cover 15 percent of Europe's energy needs and be up and running within a decade.
"The project is very ambitious," said Alexander Mohanty from Munich Re, "but our aim is to have something of a road map for Desertec within the next two or three years."
The project foresees a string of solar-thermal power plants to be linked together somewhere in the deserts of North Africa, though no host countries have been named so far.
The plants would use mirrors to focus the energy from the sun's rays to heat a special type of oil, and use the heat for steam to power turbines. The process is cheaper than the usual method of using photovoltaic cells, a common form of solar power, which converts the sun's energy directly into electricity. In theory, a tiny part of Africa could power the globe.
"You only need an area of 300 kilometers by 300 kilometers to provide enough energy for the whole world," says Alfons Benzinger of Siemens.
High profile detractors
However, it's not the sunlight, or even the necessary surface area, that has so far held back a project of this scale. It's getting the energy to the market. The further you transport electricity, the more you lose. This is where Siemens thinks it has made a breakthrough.
"We have the solutions in place," Benzinger said. "We have the so- called high-voltage direct current transmission of energy, which can transport energy over long distances and without heavy losses. We have practised this already, for instance with Hydro-power plants in China and India."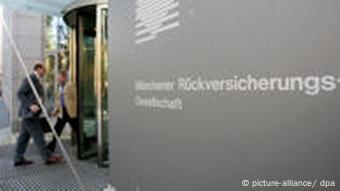 Munich Re sees climate change in its future
But not everyone is convinced. One German firm, whose absence from the project is striking, is the country's largest solar energy company, SolarWorld.
"Building solar power plants in politically unstable countries opens you to the same kind of dependency as the situation with oil," says SolarWorld boss Frank Asbeck.
That could just be a case of sour grapes. SolarWorld is heavily tied to photovoltaics. But others were also unimpressed with Tuesday's news, which failed to have any impact on financial markets.
Uncertainties vs. possible rewards
"It's too distant from today, it's 30 or 40 years off," says Koen van de Steene, at the investment bank, Fortis.
"Meanwhile you have a lot of uncertainties that have to be solved. Problems in terms of financing; safety of the plant; politics; which country will host it, and will everybody agree with the project? Besides, the technology is still in an infancy stage and doesn't have a big track record."
Despite this tepid reception, Munich Re thinks Desertec's time has come. Executive Torsten Jeworrek told the Süddeutsche newspaper on Tuesday, "this is not some far-off vision, but technologically attractive and also achievable."
He added that the electricity could be powering European homes as early as 2019 - just in time for the European Union's 2020 target for renewable energies, which aims to boost the bloc's current use of renewables from seven percent of the energy supply to 20 percent within the next 11 years.
Author: Nathan Witkop
Editor: Jennifer Abramsohn