Qabala 1-3 Borussia Dortmund
(Dodo 90' - Aubameyang 31', 38', 72')
Pierre-Emerick Aubameyang's excellent scoring form continued as he scored a hat-trick to fire Borussia Dortmund to a 3-1 win at Qabala.
Aubameyang scored twice in the first half to dampen the spirits of the side from Azerbaijan before netting on the hour mark, his 17th goal in 17 games this season. The win puts the yellow-and-blacks on eight points from three games, meaning European football after the winter break is all-but secure.
Borussia Dortmund were without Armenian Henrikh Mkhitaryan who was left behind due to concerns about his security. There are no diplomatic relations between Armenia and Azerbaijan following the six-year conflict over the disputed Nagorno-Karabakh region.
Jonas Hofmann deputized as Marco Reus moved centrally to support Aubameyang, while Park Jo-Hoo remained at left-back and Roman Weidenfeller started in goal.
In all of their European matches this season, the Bundesliga side have gone behind to weaker opposition. Had Matthias Ginter not made two crucial interventions in the first 10 minutes, the yellow-and-blacks would have trailed to Qabala.
The Dortmund full-back hooked the ball off the line as Sergei Zenjov's shot was headed goalwards and three minutes later, intervened to clear at the last minute with Dodo ready to pounce in the six-yard box.
Thomas Tuchel will have been frustrated at the number of chances presented to the home side who should have scored on 22 minutes when two Qabala players misjudged the flight of the ball from an excellent corner kick.
Efficient Dortmund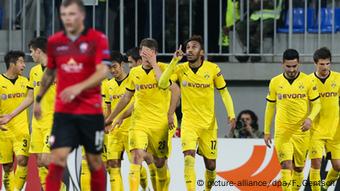 Despite pressure from the hosts, Aubameyang and Dortmund came out unscathed
Dortmund began to show signs of promise midway through the first half. Aubameyang threatened twice in two minutes: the first at the end of a brilliant run from Ilkay Gundogan and then a header which went wide of the post.
But on 31 minutes, the Dortmund striker silenced the home support, curling the ball superbly into the top corner from around 30 yards out. Seven minutes later, Aubameyang notched up his second, driving into the box and finishing one-on-one with the keeper.
While Qabala were seen as outsiders, the side, coached by Roman Hryorchuk and third-place finishers in their domestic league last season, created the clearest chances. On the stroke of the interval, Vojislav Stankovic missed from just a few yards out as Dortmund's defence failed to clear their lines.
Aubameyang killed the match as a contest on 72 minutes, finishing at the second attempt despite the best efforts of keeper Dmytro Bezotosnyi. The initial shot from Sven Bender was pushed clear to the Gabon forward who bundled home his 14th goal in his last 12 matches.
Dortmund also broke the 100 goal threshold for the tournament, but conceded in additional time when Dodo converted after the visitors were sloppy in clearing the set piece. The yellow-and-blacks have eight points after three games and top their section.