The European Union said it would suspend direct funding to the Hamas-led Palestinian Authority Friday, upping the pressure on the militant group to renounce violence and recognize Israel.
But Hamas immediately rebuffed the move and vowed not to surrender to "blackmail" from the European bloc, the biggest donor of aid to the cash-strapped Palestinians.
The European Commission, which announced the suspension, said it expects EU foreign ministers to discuss what to do next at regular talks in Luxembourg next Monday.
"For the time being, there are no payments to or through the Palestinian Authority," said Emma Udwin, a spokeswoman for EU External Relations Commissioner Benita Ferrero-Waldner.
"I expect...that the message from ministers will be an endorsement of that," said a British official, requesting anonymity.
US immediately suspended aid
The Islamic group's stunning election victory in January has left the EU, which sends around 500 million euros ($600 million) a year to the territories, with a huge dilemma at a desperate time for many Palestinians.
While the United States immediately announced a suspension of aid, the EU has held off from making any decisions, apparently hoping that Hamas will moderate its positions as the realities of government responsibility sink in.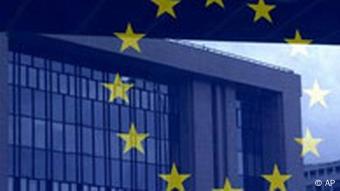 The EU must develop new strategies towards the Palestinians, officials say
But it warned that it could not provide aid to a Hamas-led government unless the group renounces violence, recognizes Israel and agrees to abide by previously made Palestinian agreements.
The new Hamas-led cabinet took office at the end of March.
A policy of maximum prudence
On Friday, the EU commission, while confirming that EU aid payments had been cut, underlined that governments of the 25-nation bloc have to decide what to do next.
"While this decision making process is underway, as is fitting for the commission, we are assuming our responsibilities and we are adopting a policy of maximum prudence," said Udwin.
Of the 500 million euros annually to the Palestinians, about half comes from the collective EU pot, the rest being paid by individual EU governments.
Hamas cries blackmail
Hamas responded quickly to the EU announcement.
"We will not accept such a blackmail," government spokesman Ghazi Hamad told reporters. "Hamas was elected democratically and the Palestinian people are being punished for their choice."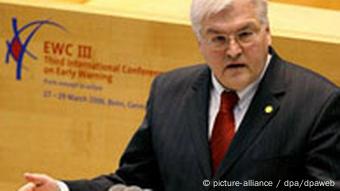 Steinmeier delivered the EU's hard line
But EU officials underlined that the bloc does not want to harm ordinary Palestinians. "We need to find a way of ensuring we continue to meet the needs of the Palestinian people," said one official.
Brussels says European taxpayers need to know that their money is not going to terrorists.
"It is our responsibility to defend the financial interests of the community and that is what we are doing," said the spokeswoman. "The EU will need to develop some new strategies, some new measures, some new decisions about how to address itself to this new situation."