Germany's EU-approved plan to introduce a toll for its autobahns and federal highways was met with resistance from neighboring countries and threats of lawsuits on Friday.
The Austrian parliament will "look very closely" at the compromise between the European Commission and Germany, said Anton Heinzl a spokesman for Austria's Social Democrats (SPÖ) party on Friday.
"If it turns out that Austrians are discriminated against, then we will fight this toll by all means and, of course, with legal means," said Heinzl.
Late Thursday, Dutch transport minister Melanie Schultz van Haegen told the Dutch news agency ANP that the Netherlands plans to file a lawsuit with the European Court of Justice.
The minister said that Germany's plans were alarming and that "these concerns can only be dispelled if the toll is not introduced."
It is possible that Austria, Belgium and Denmark would join in on the Dutch lawsuit as well.
Germany's plan to introduce a toll was approved by EU officials on Thursday, after months of dispute. The original plan, approved by the Bundestag last year, was effectively designed to only impact foreign drivers - Germans were told that their payment would be deducted from existing road taxes.
But the European Commission complained the proposals would be discriminatory under EU rules and began a so-called infringement procedure, launched when a state fails to comply with key EU treaties.
Green incentives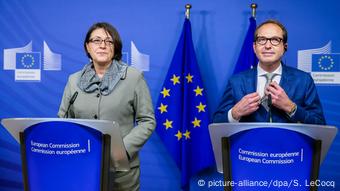 Germany's transport minister and his EU counterpart
Under the revised scheme, the charge will also be linked to environmental criteria. This means that Germans with more fuel efficient cars will pay less and those with more polluting vehicles will pay more.
Furthermore, Germany's Transport Minister Alexander Dobrindt agreed to a minimum fee of 2.50 euros ($2.65) for a 10-day pass and a maximum of 20 euros.
The EU had objected in particular to the planned costs for short-term visitors to Germany, saying that they were too high.
The annual cost will be capped at 130 euros.
The charges will be levied via a sticker scheme, purchased in advance.
Future funding ensured
Dobrindt said the toll charge was fair and "ensures that all drivers contribute adequately to the financing of our motorways."
The highway toll was the pet project of Dobrindt's Christian Social Union party (CSU), the Bavarian sister of Chancellor Angela Merkel's Christian Democrats (CDU), after the 2013 general election.
Coalition partners the Social Democrats (SPD) have been highly critical of the plan that some experts project will line Berlin's coffers with some 500 million euros ($555 million) a year.
Residents in southern Germany, in particular, regularly complain about road tolls in neighboring France, Austria and Switzerland. But across the country, many Germans were shocked when the plans were first announced.
rs, mm/kl (AFP, dpa, Reuters)