According to a report in the news magazine Der Spiegel, German Finance Minister Wolfgang Schäuble, of the conservative CDU, has proposed giving private investors up to a 49.9-percent share in a company that will be responsible for construction and maintenance of the Autobahn.
In October, federal and local representatives agreed that the national government should form a company to take over responsibility for Germany's highway system, which up until now has rested with Germany's 16 federal states. In a top-secret piece of draft legislation obtained by Spiegel, Schäuble has put forward a change to the German constitution to allow the possibility creating a public-private Autobahn partnership.
According to Spiegel, Schäuble cited the partial privatizations of the national telecommunications company Telekom and the German post office in the 1990s as successful examples for this sort of reform. He also argued that it would save money and provide banks and insurance companies with a much needed investment opportunity at a time of minuscule interest rates.
Schäuble mooted the idea last week to the budget committee of the German parliament, the Bundestag, and it is set to be sent to the governing cabinet for debate on December 8. But its initial prospects don't look good. The Conservatives' coalition partners, the Social Democrats (SPD), don't think much of the idea.
"Mr. Schäuble's plans will never become reality in this form," SPD Parliamentary Vice-Chairman Sören Bartol told Reuters news agency. "It must be written into the constitution that both the highway infrastructure and the management company are 100 percent the property of the state."
There is even resistance to the idea within Schäuble's own party.
"I personally don't see the necessity of involving private companies in the federal government's highway company," CDU Parliamentary Budget Spokesman Eckhardt Rehberg told Spiegel. He added that conservatives had yet to reach any consensus about Schäuble's proposals.
So why is the finance minister advancing such an incendiary idea? The opposition thinks it knows.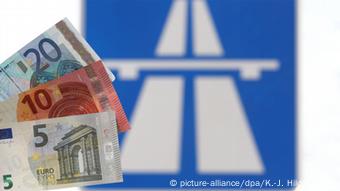 Critics say the plan is another way to soak the public
A very expensive present?
The Greens reject the CDU's argument that a public-private partnership would be an efficient way of running Germany's 13,000 kilometers of highways and say that Schäuble's proposal would benefit private companies rather than the public interest.
"Schäuble wants to give banks and insurance companies a billion-euro gift," Green Party budget expert Sven-Christian Kindler told Spiegel.
In a study from 2014, Germany's Federal Audit Office concluded that many public-private projects in the transportation sector were more expensive than traditional highway construction. The Greens agree.
"Privatization of infrastructure only means that costs go up and performance decreases for ordinary citizens," Green Party Parliamentary Chairman Anton Hofreiter told the newspaper Die Welt.
Those are views shared by many ordinary Germans. In user forums of online articles about Schäuble's proposal, reactions ran from incomprehension to outrage.
"The highways were built with taxpayers' money, and now they're being sold off, and we're supposed to pay fees to use them?" wrote one angry reader of the online edition of the newspaper Die Zeit. "People, please consider which party you're not going to vote for any more in the future."
It's not surprising that Schäuble's idea has kicked up a stir. Public anger at the mere thought of partially privatizing Germany's highway system reflects the intense symbolic significance of the Autobahn for many Germans.
Fahren, fahren, fahren auf der Autobahn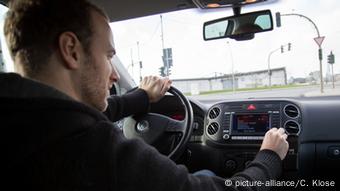 Germans love their cars - and their highways
Contrary to popular myth, the National Socialists did not invent the Autobahn, initial planning for which began in 1913. And it wasn't until Germany's economic revival after the Second World War, when large numbers of Germans could afford cars, that the highway system came to be seen as a symbol of personal freedom and enjoyment. West Germany's roads were an expression of the entire society.
The Autobahn was celebrated in countless films and, perhaps most famously, in the song of the same name by the immensely popular band Kraftwerk, which author David Buckley calls "the West German equivalent of a California road song."
"This was a landmark German song, a song which reinstated a sense of pride in being German, without, in any way, denying or forgetting the nation's past," Buckley wrote in his book Kraftwerk: Publikation. "The autobahn now meant freedom, modernity, fun."
Those qualities help explain why Germans, who favor rules and regulations in many other areas of life, have always resisted the imposition of a general speed limit on the world's fourth-largest highway system. Germans drive some 12,000 kilometers every year, and they prefer to do so with a minimum of constraints.
But that mobility and the sense of personal freedom it entails come at a price, a price which may be set to rise.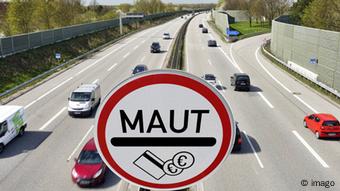 Tolls may soon be extended to passenger cars
No more free roads
Many Germans suspect that Schäuble's proposal is connected with ongoing plans to introduce tolls for passenger cars on German highways and roads. Transport trucks have been forced to pay to drive through Germany since 2005, but private motorists have always driven for free. That's set to change.
German Transport Minister Alexander Dobrindt from the CDU's Bavarian sister party, the CSU, had wanted to introduce the toll this year, but was blocked by a complaint that the change was incompatible with EU law. Dobrindt now says he thinks the toll will be in place after Germany's national elections next September.
Dobrindt has promised that reductions in motor vehicle taxes will offset the toll and that it will therefore not cost German drivers any money. The government hopes that fees from foreign motorists using the Autobahn and other German roads will bring in an additional half a billion euros per year in revenue.
But in a recent poll carried out by German public television, 64 percent of those asked said they thought they would be paying more because of the toll. The golden age of the Autobahn as a free-of-charge symbol and means of personal freedom could be coming to an end.