The German lower house, or Bundestag, passed the road toll legislation on Friday with a vote of 433-128, with six abstentions.
Although the upper house, the Bundesrat, will review the legislation at the start of May, it has no power to stop its implementation, meaning that the toll, which has provoked heated debate in Germany, will likely be introduced next year.
All drivers using highways, or "Autobahnen," in Germany will have to pay the fee, including motorists from abroad, but the German-registered drivers - who will automatically pay the toll for both highways and major roads - will receive the money back indirectly by paying less motor vehicle tax.
For this reason, the toll will be reviewed by the European Court of Justice - the highest court for European Union law - to determine whether it contravenes EU rules on discrimination.
Various prices
Drivers from outside Germany will be able to pay toll for a year, ten days or two months, at corresponding prices. In addition, the price of the toll will be determined according to the size of vehicles and the amount of polluting emissions they produce.
Not all vehicles will be affected by the toll, with exemptions for motor bikes, electric vehicles, cars used by handicapped people and ambulances.
Non-German-registered drivers are exempted from paying the toll for major roads so as not to hamper regular short-distance commuting across the border.
The government hopes that the toll will bring in revenue of 500 million euros ($541 million) annually to be used for road building.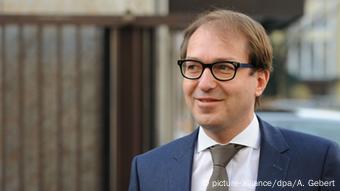 Dobrindt has faced much criticism for his plans
The road toll legislation was first proposed by Transport Minister Alexander Dobrindt, who belongs to the CSU, the Bavarian sister party of Chancellor Angela Merkel's Christian Democrats (CDU).
The proposed road toll was one of the most contentious issues in coalition talks between the CDU, CSU and Social Democrats, who now make up Germany's government.
tj/kms (dpa, AFP)