The European Union's tricky relationship with Turkey developed another wrinkle on Thursday as EU lawmakers called on Ankara to release all the journalists who have been imprisoned without proof for alleged involvement in July's attempted coup d'etat.
Meeting in Strasbourg, the parliamentarians passed a resolution calling on Turkey to "narrow the scope of the emergency measures, so that they can no longer be used to curtail freedom of expression."
They asked the EU's foreign service, the European External Action Service, to continue monitoring the implications of the ongoing state of emergency to ensure Ankara did not use the "broadly defined Turkish anti-terrorism legislation" to punish journalists and others.
Turkey last week extended its state of emergency, declared in the wake of the coup attempt on July 15, for another 90 days. The government has used the emergency measures to launch a wide-ranging crackdown on suspected followers of US-based Muslim cleric Fethullah Gulen, who Turkish President Recep Tayyip Erdogan has accused of masterminding the coup. At least 32,000 people have been arrested since July, among them soldiers, police officers, teachers, members of the judiciary and the press.
According to the latest figures from watchdog group Reporters Without Borders (RSF), Turkish authorities have shut down at least 125 media outlets in recent months. The government suspects many of them of supporting the Gulen movement, but other outspoken media outlets have also been targeted, especially those linked to the Kurdish minority.
More than 2,500 journalists have lost their jobs due to the closures, and at least 130 journalists are currently in prison, more than in China or Iran. According to the Turkish Journalists' Association, the journalists have been denied the right of access to a lawyer and are kept in inhumane conditions.
"Turkey has become the world's biggest prison for journalists," said Julie Majerczak, head of the RSF Brussels office. In its latest World Press Freedom index, RSF ranked Turkey 151 out of 180 countries - and, as Majerczak pointed out, the ranking was made before the attempted coup.
"The Turkish government is entitled to investigate anyone who may have been involved with this failed coup, but … they are not entitled to suspend human rights, to suspend the rule of law in their country," said Alexander Graf Lambsdorff, a German Liberal member of parliament, at a press conference in Strasbourg. "They must respect the basic human rights in Turkey."
'Sincere engagement with Turkey is very important'
Speaking with DW by phone from Turkey, Human Rights Watch Director Emma Sinclair-Webb said Turkey has "grossly misused its terrorism legislation to restrict freedom of association and expression."
She said the Parliament's resolution was very timely, in light of the continuing crackdown.
"[Turkey] is literally impeding the flow of information, preventing the population from having access to crucial information about key events in their country," she said, referencing the recent arrests of the two prominent politicians in the city of Diyarbakir, in Turkey's mainly Kurdish southeast.
The members of the pro-Kurdish Peoples' Democratic Party were detained late Tuesday as part of a terrorism investigation, a move described by EU foreign policy chief Federica Mogherini as "very worrying."
"There are very few media outlets left to cover the arrests, and the protests and other police raids that have followed," said Sinclair-Webb. "All this shows how restriction on free media and independent media is so damaging in a democracy."
During Wednesday's debate in Strasbourg ahead of the resolution, several lawmakers spoke out against the EU's continued negotiations with Turkey over EU membership, pointing out that Ankara's record on press freedom and human rights was not exactly great even before the coup attempt.
Some noted that unless the EU was willing to take more drastic measures, including suspending talks on visa liberalization or even sanctions, Erdogan will simply ignore the EU's call for change.
But Sinclair-Webb said that continuing a "sincere engagement with Turkey is very important," given the ongoing discussion on the refugee deal and other political, cultural and economic fronts.
"Europe has every interest in Turkey being a rights respecting country on its borders," she said.
'Future of Europe' at stake
Speaking alongside Lambsdorff on Wednesday, Turkish journalist Can Dundar agreed, calling EU membership a "very strong anchor for Turkish democracy."
"There is such a heavy cloud of fear over [Turkey today] that no one dares to write, talk or even tweet about the atrocities. Self-censorship is all around," he said, added that the mainstream media was almost completely controlled by the government and was being used as a "propaganda machine."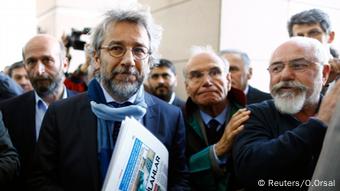 "Self-censorship is all around": Dundar (center), seen here arriving at his trial in Istanbul last April
Dundar, the former editor of the Turkish daily "Cumhuriyet," was sentenced to five years in prison for publishing information about Turkish arms shipments to Syria. He is currently living in exile in Germany.
Dundar said the struggle against the "most oppressive government in Europe" was not only important for the people of Turkey, but also for "the future of Europe." He drew comparisons to the situation in Hungary, where critics have accused the right-wing government led by Prime Minister Viktor Orban of trying to suppress critical media.
"But the case of Hungary is quite different," said Dundar. "They are a part of Europe, and it's very strange to see how the European community could let Hungary use such repression over the free media."
"We [journalists] need to stand together against oppression, otherwise it will be too late for all of us to fight against the aggression of the governments," he said.