Reporters Without Borders placed Turkey - where more than 30 journalists are currently under arrest - 151st on a list of 180 countries in its new World Press Freedom Index. While dozens of journalists that criticize Turkey's ruling Justice and Development Party (AKP) wither in the corridors of courtrooms, the number of journalists fired for their "opposition" stances increases every day. Many renowned Turkish journalists have been expressing their views on internet platforms and social media channels in recent years.
Citizen journalism becoming increasingly important
One of the best-known examples is the P24 Independent Journalism platform. It was founded by the writer and journalist Hasan Cemal - with the goal of supporting and developing editorial independence. The founding members of P24 include the editor-in-chief of the independent news site T24, and the journalists Yasemin Congar, Murat Sabuncu and Yavuz Baydar. With funding from the EU and an independent financial structure, P24 arranges programs for young professionals and produces news reports regarding Turkey's important socio-political topics.
The 140 Journos platform, created during the 2013 Gezi Park protests, was founded by university students in opposition to mainstream media by providing citizen journalism, news of events in real time, free of commentary. "We are against the mainstream, so we implement and recommend the effective usage of social media," founder Engin Onder said.
Experienced journalists are now found online
Amid the wave of clashes between Turkish security forces and the Kurdistan Workers Party (PKK) in Diyarbakir and neighboring provinces, the "News Watch" movement is another important part of Turkey's alternative media formation efforts. Nearly 70 journalists from a variety of outlets have come to the region over the past eight weeks to support their local colleagues and create news reports not found in the mainstream press on the website habernobetim.wordpress.com.
Another extension of Turkey's new alternative media is the Medyascope site, founded by veteran journalist Rusen Cakir, who has closely followed the AKP and its predecessor Welfare Party throughout his career. Cakir, who filed his last columns with the Habertürk daily last year, prepares analyses and conducts interviews regarding topics hot on the agenda and broadcasts them on the site. After following rallies leading up to last year's June 7 general elections and broadcasting interviews and footage from those rallies on the App Periscope, Cakir said he opted to use the approach to create an independent journalism platform. "Here we aren't giving people work, we are proposing collaboration. Everyone can create their own video and broadcast it on Periscope or Youtube - and we are bringing them to our page," Cakir said.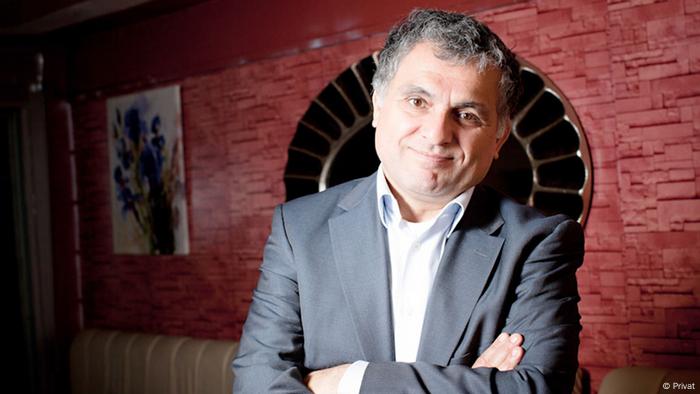 Rusen Cakir founded the Medyascope site
'Interest in news sites is increasing'
At the same time, news sites such as T24, Haberdar and Diken are becoming increasingly popular. These websites, which include rosters of experienced journalists and academics, feature columns and daily news stories.
Erdal Guven, editor-in-chief of the Diken website that was created in January of 2014 by Harun Simavi, the grandson of Sedat Simavi, founder of the prominent daily Hürriyet newspaper, says that the increasing activity of such sites in Turkey mirrors global trends. "When we look at the current political conditions in Turkey and the financial ownership structure of the media, we see that journalism done on digitial platforms has become much more successful. Interest in sites such as ours is increasing," Guven said.
"These platforms, which we created with limited budgets, have also begun to attract attention from advertisers. Given the current political conditions, they aren't exactly standing in line to advertise, but we see that interest is increasingly developing. In the upcoming period, we would like to create new alternative media projects as our financial structure strengthens," Guven stated. He underlined that his editorial policies were opposed to "partisan-opposition" dichotomy and centered on accurate, independent coverage.
'Financially, it's tough to stay on our feet'
Though the AKP's pressure on the press is increasing, resulting in an ever-narrowing space for freedom of expression, staying on one's feet financially remains the primary problem for independent news outlets, said Said Sefa, editor-in-chief of the independent news site Haberdar. "At the moment we have a team of 11 people. I have been forced to sell my car and house in order to cover costs and wages. Prior to that, we were staying on our feet via money I had earned in sectors outside of the media," Sefa said.
In spite of legal and financial problems, Turkey's alternative media outlets are diversifying and becoming stronger, Sefa emphasized. The influence of the ruling party on traditional media has increased the importance of alternative media outlets. "Technological developments have been very effective in making these outlets more widespread. Even if the pressure on journalists by the ruling party comes to an end, the developments in digital media journalism will continue," Sefa said.