The European Union's foreign policy chief Federica Mogherini on Saturday urged for an independent and transparent investigation into the use of disproportionate force by the Israeli military during ongoing demonstrations on the Gaza-Israel border.
Israeli security forces killed at least 15 Palestinians as they protested on Friday and injured an estimated 1,400, with more than 750 wounded by live rounds, the Gaza Health Ministry said, actions which Israeli Prime Minister Benjamin Netanyahu praised his troops for.
"Israel is acting determinedly and decisively to protect its sovereignty and the security of its citizens," Netanyahu said.
Read more: Opinion: Jerusalem's declaration of pretendence
The Palestinians rolled burning tires and threw stones at Israeli security forces who responded with live rounds and tear gas, causing Palestinians and Turkish authorities to accuse Israel of using disproportionate force.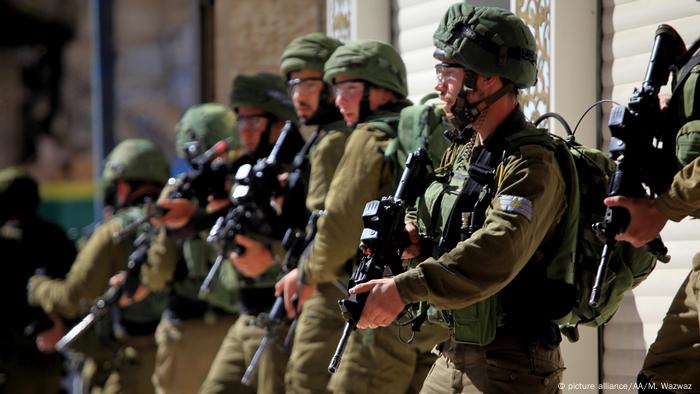 Israeli forces stand with guns at the Gaza-Israel border
"The EU mourns the loss of life … The use of live ammunition should, in particular, be part of an independent and transparent investigation," Mogherini said in a statement. "While Israel has the right to protect its borders, the use of force must be proportionate at all times," she continued.
Read more: Opinion: The two-state illusion
Mogherini said that freedom of expression and freedom of assembly were fundamental rights that needed to be respected, and that all those involved needed to exercise restraint and avoid further violent escalation and any acts that could put civilians in danger.
"A political solution for Gaza and an urgent resumption of peace talks towards a two-state solution are the only way for Palestinians and Israelis to live side by side in peace and security," Mogherini continued.
EU echoes UN
The EU's call for an investigation echoed UN chief Antonio Guterres who also called for an "independent and transparent investigation" on Saturday.
The German Foreign Ministry also expressed its concern in a statement on Twitter, saying the clashes showed it was "absolutely necessary" to "resume negotiations" between the Palestinians and Israelis.
Turkish President Recep Tayyip Erdogan on Saturday criticized Israel for its actions, calling it an "inhumane attack" in Gaza.
"I strongly condemn the Israeli government over its inhumane attack," Erdogan said during a speech in Istanbul. "Have you heard any noteworthy objections to the massacre by Israel that happened yesterday in Gaza from those who criticize the Afrin operation?" he added.
Tens of thousands of Palestinians are protesting in a march that has been dubbed "The Great March of Return" for their repatriation to what is now Israeli territory. The protest is expected to continue until the United States opens its new embassy in Jerusalem on around May 14.
It is due to officially end on May 15, the day Palestinians mark "Nakba" or "catastrophe." More than 700,000 Palestinians fled their homes or were expelled during the war that led to the creation of Israel in 1948.
Each evening at 1830 UTC, DW's editors send out a selection of the day's hard news and quality feature journalism. You can sign up to receive it directly here.