US President Donald Trump on Tuesday said he fired National Security Advisor John Bolton over strong disagreements.
"I informed John Bolton last night that his services are no longer needed at the White House," Trump said in a series of tweets. "I disagreed strongly with many of his suggestions, as did others in the Administration."
Bolton, however, gave a different story. He said he offered to resign on Monday night but that Trump had told him: "Let's talk about it tomorrow."
Pompeo vs Bolton
Media reports suggested that Pompeo and Bolton were vying for influence with Trump in recent weeks.
At a press conference Bolton was expected to attend before his resignation, US Secretary of State Mike Pompeo said his foreign policy views were different than Bolton's at times.
Treasury Secretary Steve Mnuchin also signaled Trump's openness to a "no preconditions" meeting with Iranian President Hassan Rouhani at the UN General Assembly in New York later this month.
Iranian officials welcomed Bolton's departure. "John Bolton has promised months ago that Iran would last for another three months," Iranian government spokesman Ali Rabiei said in a tweet. "We are still standing and he is gone."
Trump's acceptance of negotiating directly with dictators was frowned upon by Bolton, who has openly backed regime change as a viable option.
Read more: Americans believe war with Iran is coming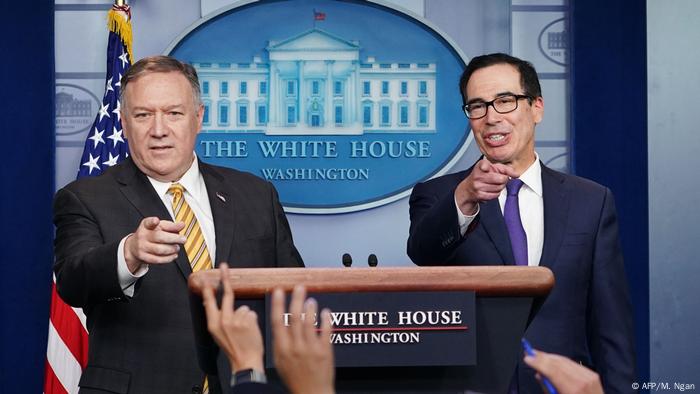 Pompeo and Mnuchin said Bolton's departure would not hinder US foreign policy
From Reagan to Trump
Bolton took over as National Security Advisor after the departure of Army General H.R. McMaster, making him the third to occupy the post under Trump.
When tapped to fill the role, many saw Bolton's views at odds with Trump's protectionist "America First" foreign policy outlook. Bolton often disagreed with Trump's decisions, including on issues such as the withdrawal of US troops from Syria and Afghanistan.
Although Bolton got a start under the late Ronald Reagan, he is best known as a hawkish neoconservative that backed former President George W. Bush's decision to invade Iraq.
In 2002, Bolton delivered a speech entitled "Beyond the Axis of Evil" that expanded Bush's "Axis of Evil" to include Cuba, Libya and Syria. He dubbed them "state sponsors of terrorism."
In an administration with a high turnover, Bolton lasted a year and a half in the post.
Read more: 'We had finalized a peace deal with Americans,' Taliban says
Every evening, DW's editors send out a selection of the day's hard news and quality feature journalism. You can sign up to receive it directly here.
ls/rt (Reuters, AP)