US President Donald Trump signed an executive order on Wednesday that allows punitive sanctions to be placed on foreigners who interfere in US elections.
The move follows sustained criticism of the president for failing to take seriously threats to the US electoral system from foreign actors. In particular, Trump had previously dismissed reports of Russian interference in the 2016 presidential race, which he won.
The executive order also comes roughly two months ahead of crucial US mid-term elections that feature tight races. The outcomes of could shift the makeup of the American Congress.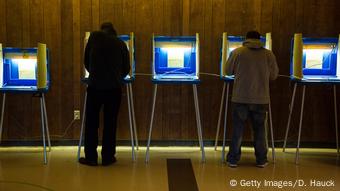 The excecutive order will punish those who spread disinformation or hack into voter systems
Foreign meddling, past and present
While announcing the new order, Dan Coats, the director of national intelligence, said that foreign election meddling could possibly take place before November's vote. He said that signs of Russian interference were visible, though not on the scale of the 2016 presidential election. Coats also highlighted potential meddling from China, Iran and North Korea.
​​​​​​​Read more: Will 2018 be the year of the woman in US politics?
Coats and National Security Advisor John Bolton, who also presented the new order to the press, said it showed that President Trump was prioritizing American election security.
"We felt it was important to demonstrate the president has taken command of this issue, that it's something he cares deeply about — that the integrity of our elections and our constitutional process are a high priority to him," Bolton said.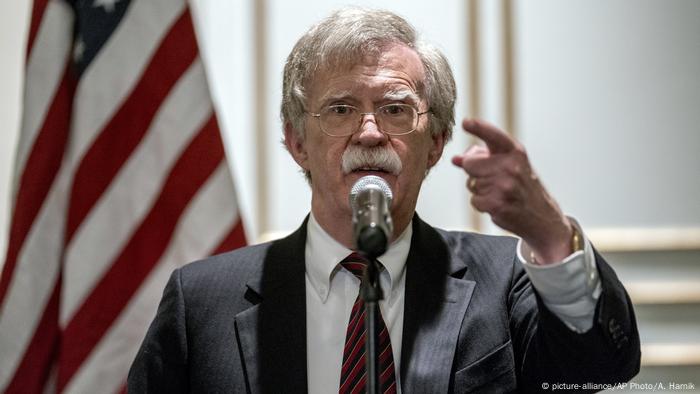 Bolton has said he won't tolerate any election meddling in the 2018 mid-terms
Prevent, report, assess and inform
According to the White House officials, the executive order sets up an automatic and formal 90-day review process that will enable intelligence agencies to investigate whether a country, entity or person has interfered in an American election and issue sanctions accordingly.
As the director of national intelligence, Coats will oversee regular assessments about potential foreign election meddling and request reports from the Homeland Security and Justice departments determining whether action needs to be taken.
The State and Treasury departments will then be the ones to decide on the appropriate sanctions to recommend and impose, Bolton said. Possible sanctions include freezing assets, limiting participation in US financial institutions and barring American citizens from investing in companies involved in election meddling.
Bolton added that the order would be aimed at stopping disinformation campaigns and any attempt to manipulate ballot outcomes.
The order further directs intelligence officials after an election to evaluate what might have occurred and to inform the public on their findings, Coats added.
"This clearly is a process put in place to try to assure that we are doing every possible thing we can, first of all, to prevent any interference with our elections, to report on anything we see between now and the election, but then to do a full assessment after the election to assure the American people just exactly what may have happened or may not have happened," Coats summarized.
The shadow of Russian meddling
Trump has been dogged by accusations that he has not given enough credence to foreign interference in the US election system, including in the 2016 race he won against Hillary Clinton.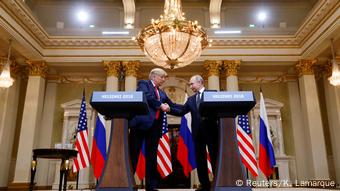 Trump controversially questioned US findings on Russian election meddling when he met with Putin this summer
While meeting with Russian President Vladimir Putin in July, Trump cast doubt over US intelligence findings that Russians had meddling in the presidential election in order to sway the vote in Trump's favor, though he later backtracked on his statement. Russia has denied interfering.
Special Counsel Robert Mueller is currently investigating possible 2016 election collusion with Russia. Trump has described the investigation as a "witch hunt."
Read more: Opinion: What Donald Trump thinks of Vladimir Putin is irrelevant now
cmb/rc (AFP, AP, Reuters)
Each evening at 1830 UTC, DW's editors send out a selection of the day's hard news and quality feature journalism. You can sign up to receive it directly here.