Forest conversion for commercial agriculture is accelerating at an "unprecedented rate" in Myanmar, putting the country's biodiversity at risk and increasing the likelihood of land conflicts, according to a #link:http://forest-trends.org/releases/uploads/Conversion_Timber_in_Myanmar.pdf:new report#.
Myanmar's government has allocated at least 5.2 million acres forestland and identified a further 11 million acres of some of Southeast Asia's "last remaining biodiversity rich forests" as suitable to be cleared for private agribusiness projects, according to the report published Thursday by Forest Trends, a forest conservation organization.
As a result, the report found, many local groups could permanently lose their land, a situation which would fuel decades-old armed conflict with local government. It also predicted the loss of wildlife habitat, as although virtually half the country's landmass is covered in lush forest, the United Nations says it has one of the highest rates deforestation on earth.
Biodiversity and locals lose out
The Forest Trends report investigated agriculture-driven clearance in two species-rich regions: Kachin State, home to the country's Northern Forest Complex on the border to China, where forests are making way for rubber and biofuel plantations, and biodiversity hotspot, the Tanintharyi Region near the Thai border, where oil palm and rubber plantations are replacing forests.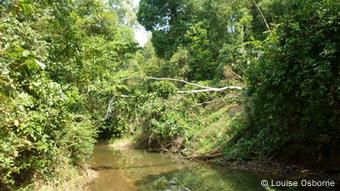 Nearly half of Myanmar is covered in forest
Most of the country's agribusiness concessions – amounting to 3.3 million acres or 60 percent of Myanmar's total concession area – have been allocated in Kachin State and Tanintharyi Region. Both areas have also seen some of the most protracted armed conflicts between minority groups and the Myanmar government.
And not everyone is convinced of the claims that foreign investment pouring into Myanmar's agricultural sector, which intensified after the United States and European Union lifted economic and trade sanctions in 2013, will be an economic boon for all.

Much of the forest earmarked for development overlaps with historical land claims by ethnic minority groups, whose rights and traditional land use are not officially recognized, according to the report.
Many of the agribusiness projects have also never materialized and as of 2013, agricultural crops had been planted in only 15 percent of allocated concession areas in Kachin and Tanintharyi.
"Claims that agribusiness ventures bring employment and economic development to local communities are left as hollow promises when villagers' farming fields and forests are confiscated," said report author Kevin Woods in a statement accompanying the document.
"Seventy-five percent of these cleared lands – nearly four million acres – are still not planted, and concessions do not follow any kind of regulation to protect the environment or local communities from negative impact."
Concessions a cover for illegal logging
Myanmar is one of the world's major teak exporters and with the value of timber product exports jumping from $1 billion to about $1.6 billion between 2011 and 2013, producers and traders are preparing to export more to the European and North American markets.There's one problem: logging rights are no longer as easy to come by, says Forest Trends.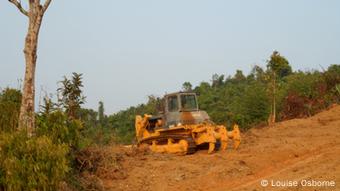 Tractors are used to clear forests for plantations
"It has become more difficult to obtain logging rights in Myanmar," said Kerstin Canby, Director of Forest Trade and Finance at Forest Trends in a statement accompanying the report.
"Businesses are seeking to obtain the rights of oil palm concessions that would allow them to clear-cut this valuable timber. They may or may not ever plant the oil palm and may just 'flip' the land later, thereby profiting from speculation."