A European Commission decision in October to enlarge a previous 50-percent cap of Gazprom deliveries through the pipeline had been "suspended" by the Luxembourg-based court, PGNiG claimed Tuesday.
The court itself did not issue a matching statement. PGNiG, 72-percent-owned by the Polish state, said the suspension ruling was issued on December 23, just before Christmas, requiring the commission to explain its decision in detail in response to Poland's complaint.
OPAL (in German the Ostsee-Pipeline-Anbindungsleitung), completed in 2011, draws natural gas off the main "Nord Stream 1" pipeline lying on the Baltic seabed from Russia to Germany.
From Greifswald on Germany's Baltic Sea coast, OPAL extends south 470 kilometers (290 miles) through eastern Germany to the Czech Republic.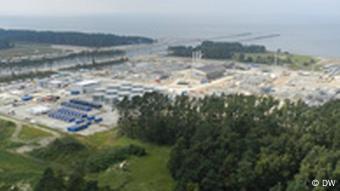 Russian gas comes ashore at Lubmin near Greifswald
The Nord Stream-Opal linkage skirts Baltic nations such as Lithuania and Poland.
In breach, says Polish utility
The Polish concern had filed a complaint on December 4, arguing that Gazprom would gain access to 80-90 percent of OPAL's throughput - in breach of EU treaties and a 2009 directive setting common rules for the EU's gas market.
Gazprom was "striving for complete dominance" on the German and central European gas market by using OPAL and seeking to terminate gas transits through Ukraine, claimed PGNiG board president Piotr Wozniak on Tuesday.
He accused the Brussels-based commission and Gazprom of trying to "act aside from the regulations on transparency and competition on the EU's internal market."
Anxiety over Russia
Analysts had warned in October, when the commission granted Gazprom more capacity in OPAL, that this would trigger anger in some EU nations already demanding a tougher stance toward Russia over its military actions in Ukraine.
Russia's state exporter, which supplies about a third of the EU's gas, had already had access to 50 percent of OPAL's throughput.
The commission's ruling handed Gazprom the right to bid for higher volumes - beyond 50 percent - if other suppliers did not take up capacities allocated to them.
An EU source told Reuters in October that the EU executive wanted guarantees that Gazprom would keep piping gas across Ukraine after its contract expiry in 2019.
Guarantees would ensure uninterrupted winter supplies to European and Ukrainian clients, the source said.
Since Russia annexed Ukraine's Crimea region in 2014, eastern European countries and the US have opposed projects that sideline Ukraine as a transit route.
In October, Ukraine's state energy company had said it stood to lose up to $425 million (406 million euros) a year in transit fees.
Second Baltic pipeline planned
Currently in planning is a second Baltic Sea pipeline, Nord Stream 2, billed at 1,200 kilometers as one of the world's longest pipelines.
Its Swiss-headquartered consortium includes Gazprom and partners such as BASF/Wintershall of Germany, the English-Dutch concern Royal Dutch Shell, Austria's OMV and the French concern Engie.
Natural gas is widely seen in the EU as a energy "bridge" during Europe's planned transition away from coal to renewable sources such as wind and solar capture.
North Stream 1 was completed in the wake of a 2009 crisis, when EU nations were caught up in a payment and delivery row between Russia and transit nation Ukraine.
ipj/kms (dpa, Reuters)