Germany on Sunday stopped most travel between regions in the east and south of the country and the neighboring Czech Republic and Austria in a bid to stop COVID-19 variants from spreading.
The measures are set to remain in place for at least 10 days.
Germany on Thursday designated Austria's Tyrol and border regions of the Czech Republic as "virus mutation areas."
The government took the decision after the South African B.1.351 coronavirus variant was found in Austria's Tyrol region. The British B.1.1.7 variant was found circulating in the Czech Republic.
There are concerns that variants are more contagious and that vaccines may not be as effective against them.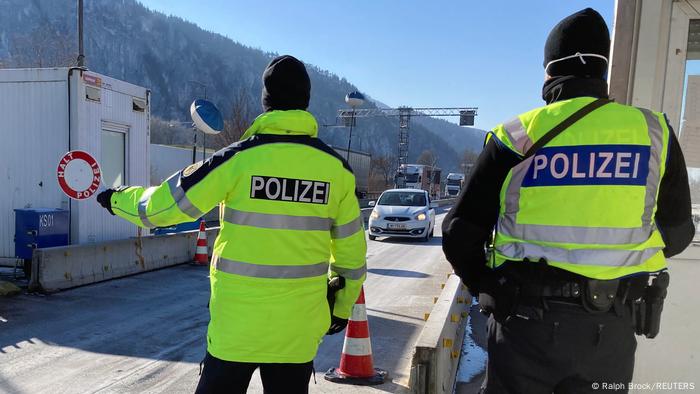 Only a few groups of people are now allowed to travel between Austria and Germany
How tight are the new restrictions?
Around 1,000 police officers were mobilized on Sunday to ensure the new border controls.
State-owned rail company Deutsche Bahn suspended services to and from the affected areas.
Only a handful of exceptions are allowed to enter Germany from these countries. These include returning Germans and essential workers such as doctors. Trade links will also be maintained.
Even those allowed to cross the restricted border "are likely to be turned away" if they can't provide proof of a negative COVID test, warned Bavarian premier Markus Söder, whose state borders the Tyrol region.
Automotive industry voices concerns
The German automotive industry association VDA said on Sunday it believed the regulations could cause serious hitches in production because deliveries of parts from other countries were so closely synchronized with the manufacturing processes.
A spokesman said that production could even stop at several carmaking plants from Monday afternoon, with factories in Ingolstadt, Regensburg, Dingolfing, Zwickau and Leipzig being hit first.
However, carmakers Volkswagen and Daimler have both said that there were still no delivery shortages as of Sunday afternoon. Both said they did not expect production to be affected on Monday either.
COVID variants bring more checks
Slovakia is also subject to new German restrictions from Sunday, despite not sharing a land border with the country.
Slovakia has also been hard-hit by the coronavirus variants.
But Germany's new restrictions prompted a complaint from Slovakian Foreign Minister Ivan Korcok, who sent a diplomatic note to Berlin.
The requirement to show a coronavirus test at the border, no older than 48 hours, to be allowed to enter Germany will "cause huge problems and is almost impossible for our lorry drivers to fulfill in practice," Korcok said. 
Czech workers inconvenienced
DW's Barbara Wesel, who has been reporting from the Bavarian town of Schirnding on the Czech border, said such requirements were also causing consternation among businesses in the area that conduct cross-border trade.
"There are more than 20,000 Czech workers who pass here every day and work on the German side. So if they all can't come, it is incredibly inconvenient. Many small companies have said, 'We'll have to close down' if they can't come again," she said.
International travel is already banned in Germany from countries hardest-hit by the new more contagious coronavirus variants.
Controls could also soon be installed at the border with the Moselle region in eastern France, where the spread of coronavirus variants has been particularly active.
tj, kmm/mm (AFP, AP dpa)