Those who happen to be present in the southern German village of Unterflossing on Saturday afternoon might catch a glimpse of the mother of God — or her scent.
The Virgin Mary is allegedly due to appear at precisely 4:30 p.m. at the privately-owned St. Laurentius Chapel, according to the chapel's owner Otto Masszi. According to news agency dpa, Masszi purchased the building a few years ago and renovated it himself.
Read more: Pope Francis decrees new celebration dedicated to Virgin Mary
Last September, hundreds of people gathered in Unterflossing — whose population is around 100 — in the company of a Sicilian self-appointed prophet named Salvatore Caputa who predicted Mary's "arrival."
This year, Caputa prophesied that she will return at the same hour on March 17.
According to those present last year, pilgrims will apparently be able to recognize her arrival by her scent.
"There was this unmistakable scent of roses. Yes, something happened there. There is something," Erich Neumann, the head of the Association for the Patrons and Friends of the St. Lawrence Chapel told dpa. He helped organize the trip last year with Caputa's followers.
Read more: Fatima child saints canonized by Pope Francis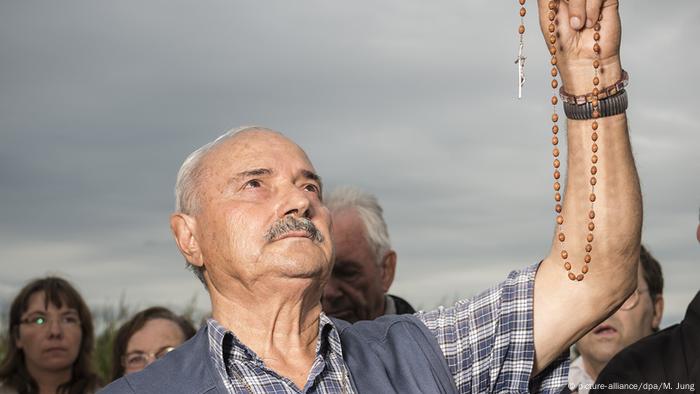 The Catholic Church has distanced itself from self-styled prophet Salvatore Caputa
Church keeping its distance
Saturday's festivities in Unterflossing will include two masses — but they will likely not include priests.
The Archdiocese of Munich and Freising issued a statement forbidding clerics from taking part in the masses or the event. Their issue isn't so much with awaiting Mary's alleged arrival, but rather with the man who predicted the event.
Read more: Pope approves sainthood for Paul VI and slain Archbishop Romero
The church doesn't want its clerics taking part in events tied to Caputa, in order to avoid giving the impression that the sightings in Unterflossing are recognized by the church.
According to local public broadcaster Bayerischer Rundfunk, members of the archdiocese were present for last year's sighting, but pilgrims shouldn't expect to see them this year.
The church has recognized several Marian "apparitions" in the past, including sightings dating back to 1858 in Lourdes, France and a sighting in 1917 in the Portuguese town of Fatima.
DW's editors send out a selection of the day's hard news and quality feature journalism. You can sign up to receive it directly here.