The Vatican on Wednesday announced that Paul VI and murdered Salvadoran Archbishop Oscar Romero (pictured) were to be made saints.
Pope Francis signed decrees on Tuesday that approved the canonizations based on miracles the candidates are believed to have performed.
Read more: Opinion: Pope Francis wants change. But does the Church?
Reformer
Paul VI, who ruled from 1963 to 1978, is mostly remembered for overseeing the Second Vatican Council reforms of the Catholic Church in the 1960s, which included the end of Latin Mass for ordinary services.
During his papacy, he also confirmed a long-standing ban on abortion and the use of artificial contraceptives.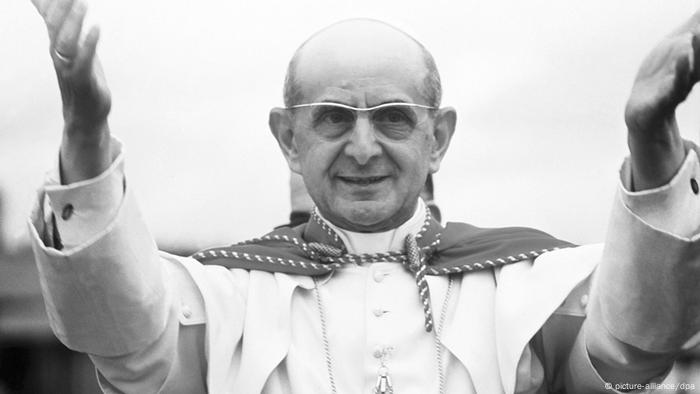 Pope Paul VI seen here in 1968 ruled from 1963 to 1978
Read more: Mother Teresa declared a saint by Pope Francis
Assassinated
Archbishop Oscar Romero was assassinated by right-wing death squads on March 24, 1980, as he celebrated Mass in a hospital chapel.
He had been a public critic of human rights violations committed in El Salvador by the army and leftist rebels at the start of the country's 1980-1992 civil war. El Salvador's military dictatorship strongly opposed his preaching against the army's reported repression of the poor.
Read more: Opinion: Benedict XVI advanced Vatican by resigning as pope
Overcoming opposition
Francis unblocked Romero's long-stalled sainthood case at the beginning of his pontificate and declared him a martyr in 2015.
The Vatican had held up Romero's case mainly due to opposition from conservative Latin American churchmen who worried about Romero's perceived association with the liberation theology movement. The churchmen feared Romero's elevation to saint would strengthen the movement, which believes Jesus' teachings require followers to fight for social and economic justice.
His sainthood was also delayed due to a debate on whether Romero's killer targeted him because of his faith or his politics. Some argued that a political motivation should preclude the Church from naming Romero a martyr of the faith.
Dates for the ceremonies are still to be decided.
law/amp (AFP, AP, dpa, Reuters)