Last week, China announced that it would be stopping imports of North Korean coal until the end of 2017, severing an essential source of income for the isolated nation. The move indicates a growing fissure in the relationship between Pyongyang and Beijing, and reflects a sign that the Chinese may be taking a tougher stance on North Korea's cavalier displays of aggression on the world stage.
China is by far North Korea's largest trading partner and represents nearly 90 percent of the economically beleaguered country's foreign trade. Coal is North Korea's top export and a critical economic lifeline. According to figures from Chinese Customs, China imported nearly $1.2 billion worth of coal from North Korea last year.
The coal embargo has already taken effect and South Korea's Yonhap news agency reported that $1 million worth of North Korean coal was rejected last week at China's Wenzhou port.
Foreign Ministry spokesman Geng Shuang told reporters after the decision was announced that the move reflected China's "responsible attitude on the Korean nuclear issue and its sincerity in implementing UN Security Council resolutions."
China later tried to diminish the embargo's significance and said that they stopped North Korean coal imports because they had already purchased the yearly upper limit of coal as allowed by UN sanctions - a dubious claim given the limit is 7.5 million tons.
An unprecedented move
China has in the past also skirted UN import limits on North Korean coal by using a loophole that permitted deliveries that benefited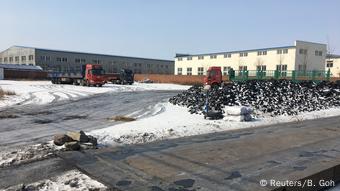 A coal yard in China - N. Korea's primary importer
"the people's wellbeing" in North Korea. In 2016, it imported more than 22 million tons of coal from North Korea - almost three times the UN limit.
"The embargo is definitely an unprecedented move," Rüdiger Frank, professor for East Asian Studies at the University of Vienna, told DW. "Despite previous gestures of a similar type but much smaller magnitude, China has so far avoided such a bold action. They've now really changed their approach towards North Korea, which is quite significant."
It has been a busy month for North Korea. After launching a ballistic missile into the Sea of Japan on February 12, the half-brother of Kim Jong Un, Kim Jong Nam, was poisoned at Kuala Lampur international airport, in a bizarre public assassination.
Now it seems China is pushing around its economic weight with its belligerent neighbor and there is little reason to believe that this time they will step back. "There was no immediate pressure on China to issue such a sanction," said Frank. "They did it out of their own reasoning."
On Thursday, February 23, North Korea responded to the coal sanctions with an uncharacteristic public criticism of China. In an editorial published in the North Korean state-run KCNA news agency, Pyongyang accused its "neighboring country" of taking "unhesitatingly inhumane steps" to block foreign trade on UN resolutions "devoid of legal ground." It also directly referred to the coal trade as benefitting the "people's living standard."
Without mentioning China by name, the commentary stated: "This country, styling itself a big power, is dancing to the tune of the US while defending its mean behavior."
A peace prize for Trump?
US PresidentDonald Trump told Reuters news agency on Thursday that the US "appreciated" the import ban adding that China had "tremendous control" over North Korea. "I think they could solve the problem very easily if they want to."
China's official Xinhua news agency, however, said that Beijing's influence was being exaggerated. "The Trump White House needs to make the first move and talk to Pyongyang."
"The opinion in Washington is that the import stop is a signal towards the Trump administration, basically saying that the ball is in their court now," said Frank, adding that the coal sanctions were a response to Pyongyang's missile launch.
"That launch could serve as a justification for a further expansion of the US missile defense shield in East Asia, which China regards as a major threat to its security," he said. "They asked the North Koreans to restrain themselves and that request was ignored. So China is now responding."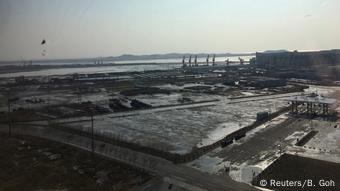 The port of Dandong on the border of China and N.Korea
And regardless of their bluster, the regime in Pyongyang is being put in a vulnerable position by the Chinese decision. It is now up to the Trump administration to take advantage of the situation.
"For the Trump administration, there is now a window of opportunity to step in and offer North Koreans an alternative to the lost Chinese market and make a deal," said Korea expert Frank.
"That would bring everything to the table, from a freeze and eventual dismantlement of the nuclear program to the long-awaited peace treaty and diplomatic normalization. This would earn Donald Trump the Nobel Peace prize."
Will Pyongyang change its tone?
In the editorial response to the coal sanctions, North Korea said it was "utterly childish" to assume that it would discontinue its nuclear weapons program for a "few pennies." And it is doubtful that coal sanctions alone are enough to influence the nuclear aspirations of the regime in Pyongyang. The economic effect, however, will clearly be detrimental.
"China's decision is a heavy blow to the North Korean economy, Cai Jian, the director of the Center for Korean Studies at Fudan University in Shanghai, told DW. "Its goal is that North Korea changes its policies and stops its aggressive pursuit of nuclear weapons."
"In the past, North Korea could have weathered that storm," said Rüdiger Frank. "The new middle class, however, might have changed that equation to the point where a suffering economy will lead to unrest, rather than a 'rally-round-the-flag' phenomenon as we saw it in the 1990s."
The effect of the sanctions on North Korea's nuclear policy remains to be seen, but the patronage of its most important supporter is uncertain and the road ahead for Pyongyang is looking more lonely than before, even by a hermit's standard.