German Chancellor Angela Merkel was highly critical of US President Donald Trump's speech at the United Nations. In the speech, Trump threatened to "totally destroy" North Korea.
"I am against threats of this kind. And speaking for myself and the government I must say that we consider any type of military solution absolutely inappropriate and we are counting on diplomatic efforts," Merkel said in an interview with DW. "This must be vigorously implemented. In my opinion, sanctions and enforcing these sanctions are the right answer. But anything else with regard to North Korea I think is wrong. And that is why we clearly disagree with the US president."
She said she explained the German position to the US president in a phone call before his speech at the UN.
Read more: Germany's Angela Merkel seeks re-election: Steady wins the race
Merkel also confirmed her willingness to assist in resolving the conflict. With former East Germany's communist legacy, the fact that the two countries still have diplomatic relations and with Berlin's strong ties to China, Japan, South Korea and the United States, Merkel said Germany is one of the few countries in a position to assist in resolving the crisis.
"Even if this conflict is far away from Germany, it is one that also affects us," Merkel said. "That is why I am prepared, as is the foreign minister, to assume responsibility here," she said. "We took part in negotiating the Iran agreement, which I think is good, and better than having no agreement at all. It took many years, but in the end, it did limit Iran's possibilities for nuclear armament. And I think we must take the same path or a similar one, with Russia, with China, together with the US, also in the case of North Korea."
When asked if she would consider reaching out to North Korean dictator, Kim Jong Un, the chancellor responded, "That is not on the agenda. I am not going to undertake any measures that are not already agreed on."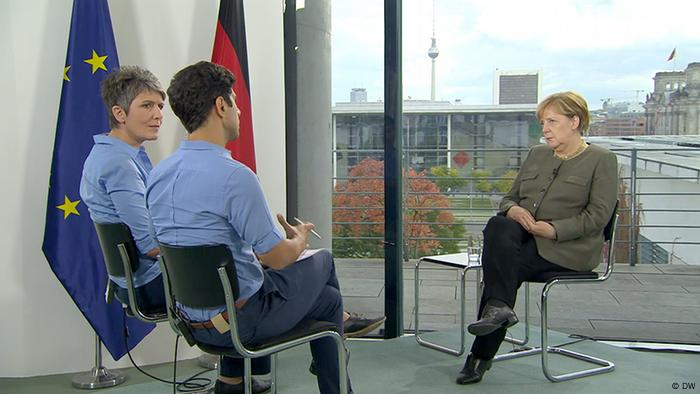 Angela Merkel speaks with DW's Ines Pohl and Jaafar Abdul Karim
'I will never work with AfD'
Merkel also spoke about the German election campaign, now in its final days, and in which she has a clear lead over challenger Martin Schulz of the Social Democratic Party (SPD). Asked about the surprisingly high poll numbers that the right-wing populist party Alternative for Germany (AfD) is enjoying, the chancellor laid out what she feels is the best strategy moving forward.
"My answer is clear: to solve people's problems. The worries they have, having their own jobs, as well as decent schools and doctors, to really take care of these issues, but on the other hand to signal a clear stop to hatred and violence."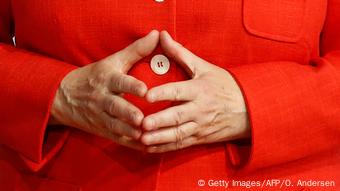 Merkel has remained silent about the populist AfD's rise in polled support
Several of the latest opinion polls have the AfD picking up more than ten percent of the vote, making it more than likely that the party will gain seats in Germany's lower house of parliament, the Bundestag. Merkel, who has been chancellor for 12 years running, refused to explain this pending electoral success. "I would rather not address that as I will never work with AfD."
Read more: German election: What you need to know about Germany's political parties
'Don't import any conflicts from Turkey'
Merkel also spoke about the ongoing diplomatic conflict with Turkish President Recep Tayyip Erdogan, who has repeatedly accused the chancellor of using "Nazi methods." Furthermore, she addressed the fact that a number of German citizens have been arrested in Turkey, most without specific accusations, let alone criminal charges.
Merkel is especially concerned about the effects that could arise from the conflicts playing out within Turkey. "What worries us is the fact that different groups from Turkey are maybe spying on or surveilling each other. We do not want that. We don't want to import any conflicts from Turkey to Germany. We will make sure that all groups can live here peacefully and unharmed."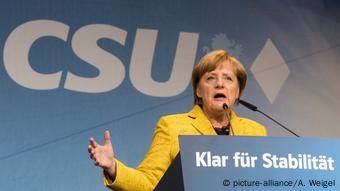 Merkel campaigned for the CDU's sister party, the CSU, in Passau
Read more: Turkish President Recep Tayyip Erdogan's voting advice for German elections splits Turkish community
On a desert island with the CSU
Asked which German politician she would take with her if she were stuck on a desert island, Merkel offered a surprising answer: Joachim Herrmann, Bavaria's state interior minister and a member of the Christian Social Union (CSU), the sister party of Merkel's CDU. She said that she would use the time with Herrmann to talk about Germany's domestic security.