German Chancellor Angela Merkel landed in Saudi Arabia Sunday on a one-day official visit. She will hold talks with the Saudi leaders on the fight against the so-called "Islamic State" (IS) militant group and the conflict in Yemen. Trade and business ties will also feature in the discussion between German and Saudi officials.
In her talks in Jeddah with King Salman bin Abdulaziz Al Saud and Crown Prince Mohammed bin Nayf, Merkel will raise questions about the human rights situation and the role of women in the Arab country.
The German leader's Saudi visit comes at a time when the United Nations is facing criticism over electing Saudi Arabia to serve on the UN Commission on the Status of Women, a body "dedicated to the promotion of gender equality and the empowerment of women."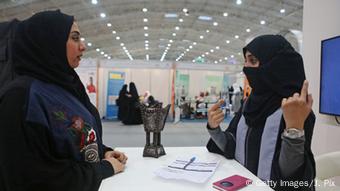 Saudi women could not vote in local elections until 2015, and domestic violence was first outlawed in 2013
The Arab country's human rights record, especially its treatment of women, is extremely poor. Rights organizations say that the state is responsible for crimes against women in the country. Women are not allowed to drive, and most aspects of their lives are controlled by "male guardians."
The wife of Saudi blogger Raif Badawi, whose imprisonment and public lashing provoked an international outcry, has also called on Merkel to seek a pardon for her husband from Saudi authorities.
"Saudi Arabia has made marginal improvements on women's rights in recent years, primarily in employment and access to higher education, but such changes have been hindered or even nullified because authorities have allowed the male guardianship system to remain largely intact, enabling men to maintain control over female relative's lives," says Adam Coogle, Human Rights Watch's Middle East researcher.
Public opinion in Germany is unequivocally against Saudi Arabia's treatment of women. Merkel needs to press Saudi authorities harder over women's rights. It should be a lot more than just not wearing the headscarf on Saudi soil and paying lip service to the feminist cause.