Prince Harry, who went to a costume party dressed in an Afrika Korps uniform with a swastika armband, "really lacked taste," said Wolfgang Bosbach, deputy leader of Germany's conservative Christian Democratic parliamentary group.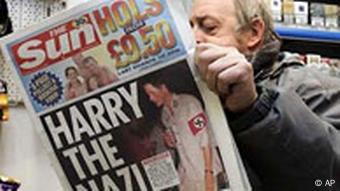 Prince Harry has since apologized for his inappropriate choice of costume
Bosbach said it was possible European justice ministers at an upcoming meeting would discuss bringing in a European prohibition on displaying the swastika and other Nazi signs. These already are banned in Germany, which nonetheless has a worrying problem of xenophobic neo-Nazi activities, particularly in the former Communist east of the country.
"All of Europe has suffered in the past because of the crimes of the Nazis, therefore it would be logical for Nazi symbols to be banned all over Europe," added Silvana Koch-Merin, who heads Germany's liberal Free Democrats in the European Parliament. She also called for the question of a ban to be placed on the agenda of the next meeting of justice ministers.
The Social Democrats deputy parliamentary leader, Michael Müller, agreed that study was needed to find out how a German-style anti-Nazi law could be transposed to the rest of Europe. Dieter Wiefelspütz, a Social Democratic party specialist on justice questions, said Nazi symbols were reminders of a "humiliating" and "deathly" concept of humanity.
EU ban unlikely
But expanding the ban on Nazi symbols across the EU is unlikely to happen, as many countries consider their display -- no matter how repugnant -- protected by democratic principles of free speech.
Backers of a ban want the issue rushed onto the agenda of a European Union ministers' meeting next week. But the emotive issue generated immediate dispute, with some warning that it threatens freedom of expression.

"I understand how the burden of history weighs upon my German colleagues' view," said Chris Davies, leader of the British Liberal Democrats in the European Parliament.

"However, banning symbols cannot ban evil and risks playing into the hands of those who would seek to subvert the very liberties we most champion," he added.

A spokesman for EU home affairs commissioner Franco Frattini said he "shares the general feeling of opprobrium at the use of the swastika and other Nazi symbols".

"It may be worth looking into the possibility of a Europe-wide ban, to explore that possibility at least," he added.
Harry's gaffe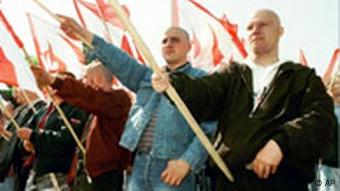 A group of neo-Nazis celebrate during a rally in the eastern German city of Leipzig, Friday, May 1, 1998.
Prince Harry recently attended a fancy dress ball with the theme of "Colonials and Natives" dressed as a German Afrika Corps officer, apparently unaware despite years of education at one of Britain's most expensive schools, that the world is about to mark the 60th anniversary of the liberation of the Auschwitz death camp.
His grandmother, Queen Elizabeth, is also due to host a reception for survivors of the Holocaust before representing the nation at the Holocaust Memorial Day National Event.
The wayward price has offered a written apology saying his choice of costume had been unfortunate. However, the gaffe has outraged Jewish groups including the Simon Wiesenthal Center, which called the incident "a shameful act…displaying insensitivity" to both Holocaust victims and Allied soldiers "who gave their lives to defeat Nazism."