Christmas Eve or "Heiligabend" in Germany is an event that many in the country identify with family, togetherness, friendship and charity. This is why several volunteer groups decided to use Christmas as the perfect excuse to host festive gatherings and distribute presents to asylum seekers.
A happy Christmas
In Bonn, 24-year-old Adelina Müller and her friend Pia Püschel organized an event called "Christmas in a shoe box" at the Ermekeilkaserne refugee shelter, which hosts nearly 500 aslyum seekers from countries including Syria, Afghanistan and Iraq.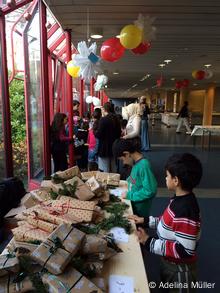 Children look at presents at Adelina Müller and Pia Püschel's "Christmas in a shoe box" event
"We only asked people for donations, bought the presents and packed them," a modest Müller told DW. "We grew very close to the children when we were teaching German at the shelter. We noticed that they needed a lot of care and attention from us. We wanted to make them happy," she added.
The children, who received presents wrapped in shoeboxes, were thrilled, the young German teacher said. "They were all beaming. But what really surprised us was that they didn't tear open the packages immediately, they wanted to do that once they were back in their rooms," Müller said.
Waffles, cookies and dancing
For Olaf Conrady, a photographer who volunteers at a refugee shelter in Troisdorf, close to Bonn, a Christmas party was one way to engage the migrants, waiting for visas and long-term living quarters. "One of the biggest challenges is to keep our refugees 'entertained' and busy," Conrady told DW. The refugees would appreciate a festive gathering and a party was a good opportunity to know German culture better, he said.
"We baked waffles for them and offered cookies and (alcohol-free) punch," he elaborated, adding that all migrants in the Troisdorf home were Muslims, mostly from Syria, Afghanistan, Iraq and Iran.
"The event had mixed music from both worlds, Christmas music, pop music and traditional music from our guests too. The result was a great mood with lots of laughter and even some traditional dancing."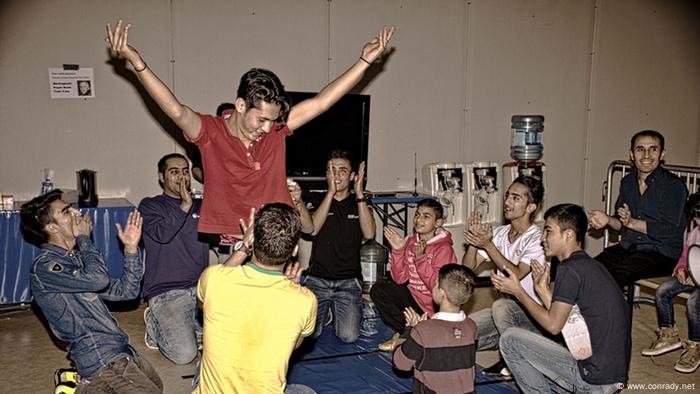 Men showing off their dancing skills at the party in the Troisdorf refugee shelter near Bonn
Refugees may feel even more welcome if a suggestion by Germany's representative for cultural integration, Aydan Özuguz's suggestion of introducing Arabic subtitles for Chancellor Angela Merkel and President Joachim Gauck's Christmas and New Year speeches is accepted. The Social Democrat has also pleaded for additional versions in Persian, Pashto, English and French.
Nearly one million refugees fleeing conflict and poverty in the Middle East and Africa have arrived in Germany since the beginning of this year. The huge influx has spurred protests from right-wing groups, but also large-hearted gestures of kindness from German citizens.