Japan's largest car-maker and a major finance firm have announced that they are reconsidering their operations in Britain after the UK completes its divorce from the European Union, a serious setback to the British government's efforts to convince companies here that it will be business as usual after Brexit.
The timing of the announcements by Toyota Motor Corp and the Bank of Tokyo-Mitsubishi UFJ is unfortunate given that Theresa May, the British prime minister, was in Japan in late August on a mission specifically to reassure Japanese businesses that they will not lose out in the EU market place should they choose to keep their European headquarters in the UK after Brexit.
Didier Leroy, the executive vice president of Toyota, broke the bad news to the British government in an interview this week with Reuters at the Frankfurt car show.
"A few months ago, the UK government was saying 'We're sure we'll be able to negotiate [a deal] without any trade tax'," he said. "They are not saying that any more."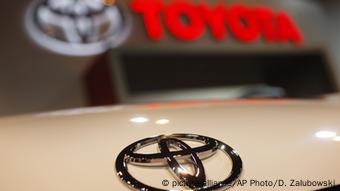 Toyota says it is rethinking its involvement in the UK
'Big question-mark'
"It is clear that if we have to wait two to three more years to have clarity on this topic, we will have a big question mark about our future investment in the country," Leroy added.
After receiving written reassurances from the British government earlier this year, Toyota announced a Y35 billion (€265 million) plan to upgrade its Burnaston plant, in central England, for the production of new models. That proposal may now be in jeopardy.
Similarly, Mitsubishi UFJ Securities Holdings has decided to apply for a license to establish a new subsidiary in Amsterdam and will be transferring its European securities operations out of London.
Japanese financial firms are fearful that Brexit will mean they lose "passporting rights" that permit them to deal with clients throughout the rest of the European bloc.
A number of other financial firms have announced similar plans, with Nomura Holdings, Daiwa Securities, Sumitomo Mitsui Financial Group and Mizuho Financial Group all unveiling plans to shift their European bases from London to Frankfurt.
"Britain leaving the European single market is becoming a clear disadvantage for Japanese companies with operations across the continent there, although there is still an expectation among most that the UK will remain at least closely connected to the European market," Martin Schulz, a senior economist with the Fujitsu Research Institute, told DW.
Read more: Japan commits to China's 'One Belt, One Road' initiative
'Not enough to do nothing'
"The British government is telling Japanese firms what will happen and how they will not be badly impacted, but the reality is that all companies with operations in Britain are considering the alternatives because, in the current political environment, it is not enough to do nothing," said Shulz.
Most companies with their European headquarters or significant manufacturing plants already established in the UK want to stay, Schulz said, but they need to have plans in place should the UK's economic position be significantly impacted by Brexit.
Jeff Kingston, director of Asian Studies at the Japan campus of Temple University, says the British government needs to brace itself for more defections to mainland Europe as the countdown to Brexit continues.
"These companies want to take advantage of the single market and, even though many of them have a long and happy association with Britain, they recognize that Brexit is going to make it significantly more difficult to do that," he told DW.
"I see more companies joining the queue to leave the UK as Brexit approaches," he added.
"Japanese people undoubtedly have a fondness for Britain, but when it comes down to hard-nosed business decisions it is making less and less sense to keep their headquarters in London."
Underlining the importance of Japanese companies to the broader British economy, a steady stream of government ministers have been in Japan in recent months, including Philip Hammond, the Chancellor of the Exchequer, and Foreign Minister Boris Johnson.
Read more: Japanese bank Sumitomo Mitsui confirms Frankfurt as European base after Brexit
Laying the groundwork
Theresa May's recent three-day visit was designed to lay the groundwork for a bilateral free trade agreement as soon as Britain leaves the EU, a deal which London believes will go some way to easing Japanese companies' concerns.
The Japanese government and domestic companies used May's visit to reiterate their calls for London to minimize the negative impact of Brexit, with Prime Minister Shinzo Abe emphasizing, "Realizing the exit smoothly and successfully is extremely important for Britain, Europe and the global economy."
On the "headline issues" for Japan, Schulz believes that May has done "rather a good job" of communicating London's position and ambitions concerning Brexit, underlining the commitment to keeping costs low and ensuring that opportunities are still in place for Japanese companies that make the UK as "open and investor-friendly as possible."
"Right now, it is a question of how this all plays out politically, and no-one can tell for sure how it will all look in the end," he said. "But May has done her job as well as she can, she is seen as being trustworthy by Japanese companies and they believe that she is doing everything in her power to promote business and keep industry and the economy growing."