Soulful music of traditional Swahili poetry by a male voice filled the air. The song came from two wooden radios which hang in the exhibition hall. The sound was frequently interrupted by radio static. "It was intentional," Rehema Chachage, a multimedia artist from Tanzania told DW. "The whole work is about finding or tuning to a voice but the voice itself is speaking from a point of difference."
Chachage created the installation as part of art exhibition, "That, Around which the Universe Revolves." The exhibition was recently held in Dusseldorf, a city that was influential in Germany's colonial past. "I did it at a time when there was a frustration that I was feeling in terms of being heard and being seen," Chachage said.
She said she felt like one without a voice. "The male voice was actually intentional because even after all the tuning is done and the voice is heard it's still not my voice."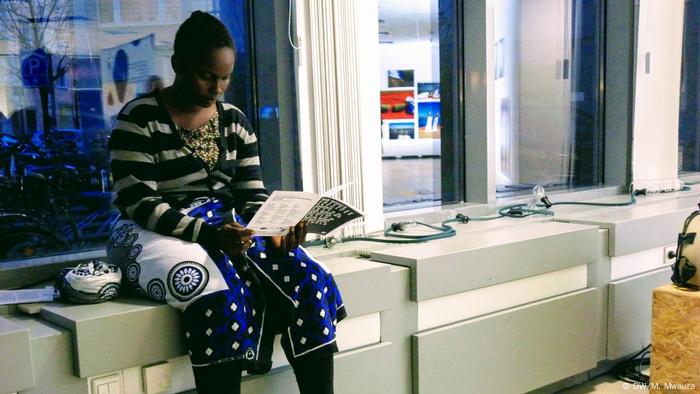 Multimedia artist Rehema Chachage says Tanzanians are wary of speaking about colonization
Gender based issues formed just one part of the exhibition which featured collaborative works by African and German artists exploring each other's environments. According to Anna Jäger, the co-curator of the exhibition and head of communications at Savvy Contemporary, colonization was an important theme but the exhibition was looking at pushing the boundaries. "Where we do find similar narratives, similar visuals, similar vocabulary that has been influenced and made colonialism possible and the violence that colonialism is and the violence that we still find in racism today," Jäger said.
Dealing with colonial baggage
Tanzanian artist Chachage also gave her own view on how colonization is perceived today. "I was just thinking how in Tanzania we don't often sit and have discussions about this, like colonial baggage and not to say that it is not in people's mind," Chachage said.
"I'm sure that people think about [colonization] it, but whenever we have to gather and talk about it, it is still from the external force," she added.
Lloyd Nyikadzino, a Zimbabwean theatre practitioner spent a month in Dusseldorf exploring the city's colonial past. But the process soon took on a life of its own – partly due to the fact that hundreds of thousands of migrants and refugees have flooded into Germany over the past couple of years. The situation compelled Nyikadzino to compare the past with the present. "They are the ones who came to our countries, looted things and now they are saying don't come," the Zimbabwean actor said.
Germany's new engagement with Africa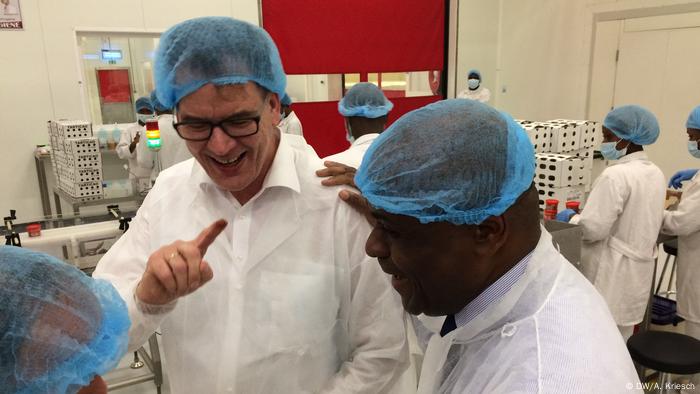 Germany's Development Minister Gerd Müller aims to boost trade ties with African counterparts
Germany has introduced a 'Marshall plan' which aims to promote peace and prosperity in Africa through trade and development. However, critics see the plan as part of a larger attempt to reduce the number of migrants from Africa. But Adeola Olanguju a Nigerian photographer, who took part in the exhibition, thinks the migration issue should also have a different perspective. "It doesn't make any sense. People should be able to travel and explore new cultures," Olanguju told DW. "You can't just stay in one place and die there."
Nina, a resident in Dusseldorf and a performance art enthusiast said the exhibition was a little different because it got her thinking. "It's a topic that Germans don't really like thinking of," Nina said. "We always like pointing the finger to someone else and saying oh, they really did much worse than we did."
Anna Jäger, the exhibition's co-curator said the exhibition was a step forward in having African and German artists respond to issues like Germany's colonial past. "I think a lot of work has to be done especially on the side of former colonizers," Jaeger said. "We also want to keep room to go beyond that to talk about other burning issues for artists in a lot of African countries."