The suspected owner of an online shop selling illegal weapons to Germans has been arrested in Hungary, state prosecutors in Berlin said Wednesday.
The 35-year-old right-wing extremist Mario R. is alleged to be behind the internet website "Migrantenschreck," which roughly translates as "Migrant fright." The site sold illegal weapons to Germans to defend against migrants and left-wing groups.
Hungarian police arrested Mario R. after German authorities issued an arrest warrant. A joint German and Hungarian team were reportedly investigating his house and computers.
Read more: Report: Far-right Reichsbürger movement is growing, building army
Among the weapons sold on the now shuttered website were gas pistols, with specific calls for them to be used against migrants and left-wing groups.
According to a joint investigation by ARD, Süddeutsche Zeitung and the news website Motherboard, more than €100,000 ($124,000) gas-powered pistols were sold. Mario R. had previously fled Germany.
Hundreds of Germans were said to have bought illegal weapons from Migrantenschreck. The pistols fire rubber or metal ammunition that can cause serious injury and possibly death.
The ARD, Süddeutsche Zeitung and Motherboard investigation also found possible links between Mario R. and two other right-wing extremist websites: Anonymus.Kollektiv and its replacement Anonymousnews.ru.
Read more: Darknet, the shady internet
Anonymousnews.ru espouses racist concepts against Muslims, migrants and Jews. It is critical of the German government.
Migrantenschreck has been closed down and replaced with another online shop, Patriotenshop.ru, which has a postal address in Zurich, Switzerland. The two online shops use much of the same language and sell similar weapons.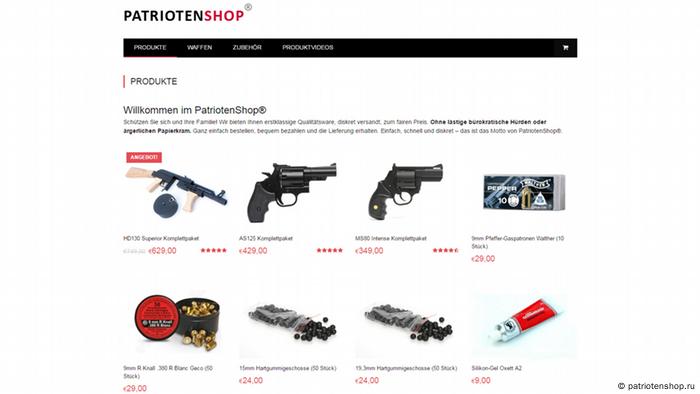 Products sold on Patriotenshop.ru include many of the same items as did Migrantenschreck. The shops' welcome messages were identical
Patriotenshop.ru sells various weapons and ammunition "without annoying bureaucratic hurdles or annoying paperwork," according to the website. Anonymousnews.ru has promoted its products.
It is unclear if or when Mario R. would be handed over to Germany. One focus of investigators was finding possible accomplices.
Customers of the online shops were apparently also being investigated.