Among those taking part in Saturday's protest was former German Finance Minister Oskar Lafontaine, who said the US drone program contravenes international law.
He also hit out at the German government's silence on the use of drones from Ramstein, saying it was "schizophrenic" that Berlin is generous to refugees but then gives its support to wars waged by the US.
Initially, around 1,500 people gathered outside the base in a rural part of Rhineland-Palatinate to demand that the base no longer be associated with drone operations.
Public anger growing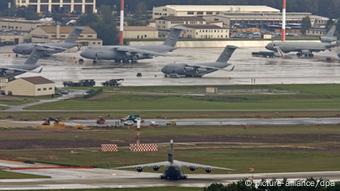 The Ramstein facility is based in southwestern Germany
Later on Saturday, around 5,000 protesters created a human chain close to Ramstein, the principal US Air Force facility in Europe, close to the city of Kaiserslautern.
Organizers described their protest as the biggest ever action against the US base, insisting that public support against the drone issue was growing.
Green MP Tabea Rössner warned that US drone attacks were radicalizing people in the Middle East, while peace activist Reiner Braun said, "The chain is not complete but it is a sign! Ramstein needs to be shut down."
DW Correspondent Greta Hamann, who covered the demo, tweeted images of protesters holding placards, which read "The majority of people want to live in peace" and "He who sows war, will reap refugees."
Whistleblower tells all
Former US drone operator Brandon Bryant first made revelations in "Der Spiegel" magazine in 2013, claiming that Ramstein was a major hub for coordinating Washington's global drone war, which included targets in Afghanistan, Iraq, Pakistan, Somalia and Yemen.
He later told a German parliamentary committee that all data from the plane went through Ramstein. However, the drones were not directly steered from the base, he added.
But the German and US governments have repeatedly downplayed the importance of the facility and have evaded direct questions about its role in the drone program.
The rallies, which began on Friday, are due to end on Sunday.
mm/bk (dpa, epd)