Pope Francis announced Sunday that he had chosen 14 men to become cardinals at a ceremony on June 29. Among those he named were Louis Raphael I Sako, the Baghdad-based patriarch of Babylonia of the Chaldeans, as well as Archbishop of Karachi Joseph Coutts. In both Iraq and Pakistan, Christians are a vulnerable minority.
Also notable was Pope Francis' choice of Monsignor Konrad Krajewski, a Pole who is known for helping Rome's homeless and poor.
Pakistan's Christians and other religious minorities complain of legal and social discrimination in their country. In the past few years, many Christians and Hindus have been brutally murdered over unproven blasphemy allegations.
Read more: Police arrest dozens of Christians in Pakistan
One of Pakistan's most high profile blasphemy cases is that of Asia Bibi, a Christian woman who was found guilty of committing blasphemy while working in the fields in 2009 and was sentenced to death. In 2014, her death sentence was upheld by the Lahore High Court. Amnesty International called the verdict a "grave injustice."
In one case, a young Christian girl with Down syndrome was accused in August 2012 of of burning pages upon which verses of the Koran were inscribed. Rimsha Masih was taken into police custody and only released months later, when charges were dropped. The case caused an uproar in her home town and beyond and sparked riots and violence against Christians in the region. In 2013, she and her family relocated to Canada.
In 2014, a Christian couple was beaten to death for allegedly desecrating a copy of the Koran. Their bodies were subsequently burned in a brick kiln.
In September last year, a Christian man in Pakistan was sentenced to death for sharing "blasphemous" material on WhatsApp.
Read more:
Gunmen kill Christians and Muslims in Quetta, Pakistan
Uproar in Pakistan over 'torture and sexual abuse' of Christian youths
In an interview with DW, Archbishop of Karachi Joseph Coutts talked about the plight of Christians in Pakistan, and how his elevation to the position of cardinal could help alleviate it.
DW: What was your first reaction when you heard that you were one of the churchmen whom Pope Francis has chosen to elevate to the position of cardinal?
Joseph Coutts: It was a big surprise for me. I was not expecting it. It is not only an honor for me but also an honor for Pakistan. After 24 years, Pakistan will have another cardinal; the last Pakistani cardinal, who died in 1994, was Joseph Cordiero.
The Christian community in Pakistan is facing many problems. Will your elevation help alleviate their situation?
Pakistan's Christians are struggling to be recognized as equal citizens. The country's founder, Muhammad Ali Jinnah, wanted religious minorities to be treated as equal citizens. But some Muslims consider Christians second class citizens. But in a modern democracy, it is not acceptable.
Cardinals don't have any political power. As a religious leader, I'm not allowed to enter politics. My task is to deal with moral and spiritual issues. Having said that, I believe that my selection as cardinal does acknowledge that there is a viable, visible and active Christian community in Pakistan.
Read more:
Pakistan Taliban targets Lahore Christians in Easter attack
Pakistan Christian teen detained over 'Koran burning'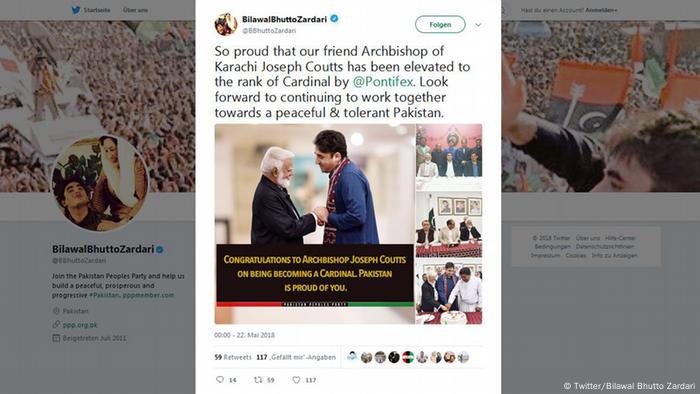 Pakistani politician Bilawal Bhutto congratulated Coutts on his cardinal nomination
Churches in Pakistan have come increasingly under attack. Who do you blame for that?
I don't know who is actually behind these attacks, but I can say confidently that the common people in Pakistan are not involved in these assaults. Terrorists subscribe to an extremist ideology and they are the ones who have also been targeting mosques and shrines.
Is the Pakistani government providing enough security to the Christian community?
The government has been very cooperative in this regard, but we understand it is not an easy task as there are hundreds of churches across the country. It is unfortunate that the places of worship need state protection.
The attacks on churches are a new phenomenon in Pakistan. The surge in terrorism, however, is a global phenomenon and groups like the "Islamic State" (IS) and al-Qaida are behind it. But one thing is clear that Pakistan is doing its best to combat terrorism.
Will you try to convince Pakistani authorities to pardon Asia Bibi, the imprisoned Christian woman accused of committing blasphemy?
I have no such plans yet.
What is your take on the forced conversions of Christians?
It is a big issue in Pakistan. When I talk to my Muslim friends, including Islamic scholars, they tell me that Islam does not permit forced religious conversions. But it is happening in the country. Not only Christians, other minority groups such as Hindus are also being forced to covert to Islam.
Joseph Coutts has been the Archbishop of Karachi since 2012. He was Bishop of Faisalabad from 1998 to 2012.
The interview was conducted by Shah Meer Baloch.