An affiliate group of the "Islamic State" (IS) militant organization has taken responsibility for Monday's attack on the Christian family, but it was unclear who was behind the unrelated attack on the Muslims, police said. Both attacks took place in the Pakistani city of Quetta.
"Three members of a family, including a woman, were killed when the motor rickshaw they were (in)... came under attack," Moazzam Jah Ansari, the provincial police chief, said of the attack on the Christians in Quetta on Monday. "The rickshaw driver, who was also a Christian by faith, is among the dead," he added. A child was injured and taken to hospital.
"Initial investigations suggest the people were ambushed because of their faith," Ansari said. Christians make up only two percent of the Pakistani population of 200 million people, most of whom are Muslims. The religious minority has faced discrimination and violence.
In another attack in Quetta on Monday, gunmen on a motorcycle killed five Muslims.
In addition to Islamist extremists, ethnic Baloch militants have been engaged in a long-running separatist insurgency in the region.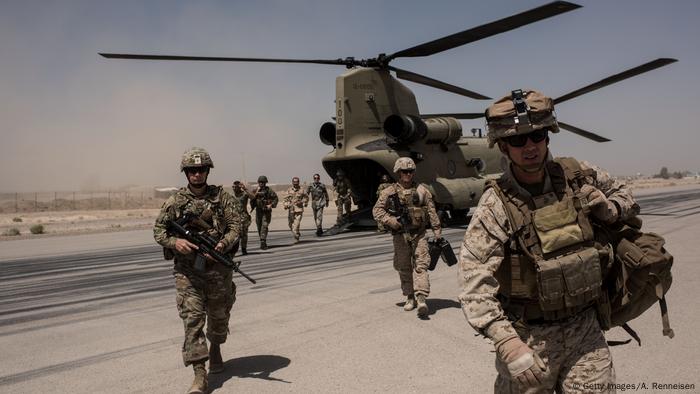 US troops in Helmand Province, Afghanistan
Death sentences confirmed
Earlier on Monday the death sentences for ten convicted militants were confirmed by Pakistani military courts. The militants had been found guilty of taking part in separate attacks that had killed 62 people.
Among the victims of the attacks were a well-known Sufi singer, Amjad Sabri, who was killed together with his father in Karachi in 2016.
Military trials, closed to the public, were reinstated after the 2014 attack on a Peshawar school in which more than 150 people, mostly young students, were killed. The moratorium on the death penalty was also lifted at that time.
Pakistan and US links
Quetta, where Monday's attacks took place, is the capital of the western Pakistani region of Baluchistan. The city lies close to the border with Afghanistan. Taliban leader Mullah Akhtar Mansour was killed in a drone strike near Quetta in 2016.
Pakistan was one of the largest recipients of American aid until the Trump administration announced in January that it was suspending $900 million (€731 million) in security assistance to Pakistan until the country took action against the Afghan Taliban and Haqqani network militants.
US Ambassador to the UN Nikki Haley accused Islamabad of "playing a double game for years" with its selective support for various militant groups operating from Pakistan.
The US military has relied on Pakistani air and ground routes for supplies to its troops in Afghanistan, estimated at around 14,000. Their mission there is to train, advise and assist the Afghan military who are fighting the Taliban and IS militants.
jm/cmb (AFP, AP)
Each evening at 1830 UTC, DW's editors send out a selection of the day's hard news and quality feature journalism. You can sign up to receive it directly here.