On Friday, Sajid Masih, a 24-year-old blasphemy suspect, leapt from the fourth floor of the Federal Investigation Agency's (FIA) Punjab headquarters in Lahore and severely injured himself. In a video statement, Sajid alleged that he jumped because the FIA officials tortured him and ordered him to "sexually assault" Patras Masih, his cousin and the main accused in an online blasphemy case.
"They asked me to abuse myself, but I refused to do so. Later, they asked me to sexually assault my cousin, but I remained silent and jumped from the building," he said.
Following Sajid's accusations, FIA Director General Bashir Ahmed Memon ordered an official inquiry.
Patras, 21, who is a resident of Lahore city, was arrested by police last week for allegedly posting a "blasphemous photo" on Facebook on January 16. The arrest was made after hundreds of supporters and activists of the Islamist Tehreek-i-Labaik Ya Rasool Allah (TLYRA) party staged protests against Patras. The TLYRA outfit has gained prominence in Pakistan since their "blasphemy siege" of the capital Islamabad in October last year.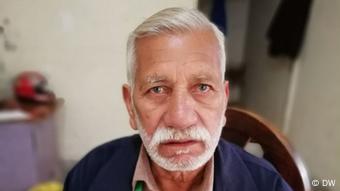 Patras' grandfather: 'This is extreme injustice'
The blasphemy allegations against Patras are being investigated by FIA's cyber crime unit, which had brought in Sajid Maish for interrogations on Friday.
Blasphemy is punishable to death in the Islamic Republic of Pakistan, where around 97 percent of its 180 million inhabitants are Muslim. Rights advocates have long been demanding a reform of the controversial blasphemy laws, which were introduced by the Islamic military dictator General Zia-ul-Haq in the 1980s. Activists say the laws have little to do with blasphemy and are often used to settle petty disputes and personal vendettas.
Living in fear
Many Christian residents of the Shahdara town in Lahore are fleeing the area due to the latest blasphemy controversy. Islamic extremists, and in some cases common Muslims, have set Christians' houses on fire or lynched alleged blasphemers even before the intervention of authorities.
"They [protesters] came with petrol bombs, bricks and sticks and threatened to burn down our houses," Pervaiz Akhter Naz, Patras' maternal grandfather, told DW.
"Mohammad Siddiqui, a Muslim resident of our area, filed a police report accusing Patras and some others of posting blasphemous content on Facebook. As soon as this news became public, hundreds of people gathered outside my daughter's house," Naz said.
Some 1,500 Christian residents have left the area since then, Naz added.
"I am heartbroken for Patras and Sajid. While the former remains in police custody the latter is fighting for his life in hospital. FIA actions forced Sajid to jump from the building. This is extreme injustice," Naz complained.
Read more: Pakistani court sentences one to death, five to life over lynching of student
Persecution of religious minorities
Pakistan's Christians and other religious minorities complain of legal and social discrimination in their country. In the past few years, many Christians and Hindus have been brutally murdered over unproven blasphemy allegations.
One of Pakistan's most high profile blasphemy cases is that of Asia Bibi, a Christian woman who was found guilty of committing blasphemy while working in the fields in 2009 and was sentenced to death. In 2014, her death sentence was upheld by the Lahore High Court. Amnesty International called the verdict a "grave injustice."
In one case, a young Christian girl with Down syndrome was accused in August 2012 of burning pages upon which verses of the Koran were inscribed. Rimsha Masih was taken into police custody and only released months later, when charges were dropped. The case caused an uproar in her home town and beyond and sparked riots and violence against Christians in the region. In 2013, she and her family relocated to Canada.
In 2014, a Christian couple was beaten to death for allegedly desecrating a copy of the Koran. Their bodies were subsequently burned in a brick kiln.
In September last year, a Christian man in Pakistan was sentenced to death for sharing "blasphemous" material on WhatsApp.
Read more:
The World Council of Churches opposes Pakistan's blasphemy sentence
Opinion: The West must demand changes to Pakistan's blasphemy laws
Conflicting claims
Shahadra Christians say Patras was implicated in the blasphemy case due to a personal enmity, a view shared by his lawyer, Aneeqa Maria.
"Patras Maish told me that three months ago, he had a brawl with some local Muslim boys during a cricket match. Some political groups got involved in it later. The issue is related to personal grudge and local politics," Maria told DW.
The lawyer says the Federal Investigation Agency is lying about the case. "Let them submit the charge sheet. FIA statements are contradictory. They are lying about many things. We will expose their lies in court," Maria added.
But Khalid Anees, the FIA's cyber crime unit head, says he has no doubt that Patras shared blasphemous material on social media. "He [Patras] confessed it. The content was on his messenger, which he shared with three Facebook groups on January 17, deleting it from one group but forgetting to remove it from two others," Anees told DW.
Anees confirmed that Sajid accused the agency's officials of torture and sexual abuse. "This is what Sajid said in his statement, but the investigating officials deny it. The probe is underway."
Read more: Why is Pakistan against its Ahmadi community?
Rise of anti-blasphemy party
Rights groups believe the rise of the TLYRA party — a Barelvi sect outfit — has given impetus to the blasphemy agitation in the country.
In October, TLYRA activists paralyzed the capital Islamabad after the government amended electoral laws, including the wording for the swearing-in of lawmakers, who must recognize the Prophet Muhammad as God's final prophet. After protests from religious groups, the government restored the oath in its original form, which was seen as slightly more legally binding.
Read more:
Opinion: Pakistan's ignominious surrender to Islamists
Pakistan's Islamists agree to end protest camp after government deal
Joseph Francis, the head of the Center for Legal Aid, Assistance and Settlement (CLAAS) charity organization, says Pakistani Christians have become very fearful since the rise of the TLYRA leader Khadim Hussain Rizvi on the political stage.
"Rizvi's supporters are threatening Christians in many parts of Punjab province. Since Patras' arrest, our organization has been receiving phone calls from the members of our community who express concern over their safety," Francis told DW.
Francis said a few days ago a petty matter in Faisalabad turned into a blasphemy issue. "A Christian man had a dispute with a resident over kite flying and it became a religious controversy. This is how Pakistan's Christians are implicated in false cases. I do not think Patras Masih will get justice."