An Islamist group in Pakistan said on Monday that it will end a weeks-long protest against a government minister after striking a deal with Islamabad that includes the minister's resignation.
"Our main demands have been accepted," Tehreek-i-Labaik spokesman Ejaz Ashrafi told Reuters news agency. "The government will announce the law minister's resignation and we will end our sit-in today."
Read more: Pakistan's army 'favors dialogue' with Islamists over blasphemy row
Violence erupted at the weekend when police attempted to violently clear a protest camp in the capital. However, authorities failed to demolish the camp, with supporters of the Islamist group Tehreek-i-Labaik clashing with police.
At least seven people were killed and more than 200 people injured, of which 137 were security personnel. Demonstrations against the government minister also took place in several other towns and cities across Pakistan.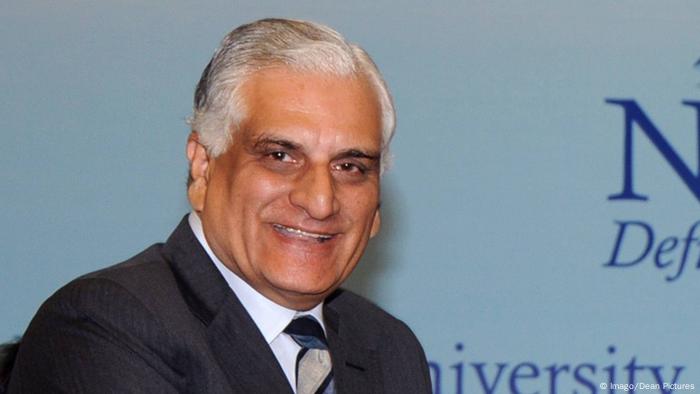 Pakistan's Justice Minister Zahid Hamid has been forced to resign as part of a government deal to end the Islamist rally. The government had previously said his "blasphemous" change to the electoral oath was a "clerical error"
Blasphemy politics
The weeks-long sit-in was prompted by what the government described as a "clerical error." Law Minister Zahid Hamid said "I believe" instead of "I solemnly swear" while taking an electoral oath.
The incident sparked a major controversy with the hard-line Tehreek-i-Labaik group organizing protests calling for him to resign, accusing him of blasphemy, which is a criminal offense in the Muslim-majority country.
Read more: 'WhatsApp blasphemy' and the plight of Pakistani Christians
Hafiz Ullah Alvi of Tehreek-i-Labaik told DW that the Islamist party's sole demand is that authorities discipline those "who amended the constitutional clause related to the 'finality' of Prophet Muhammed."
"The government said it was a clerical error. We don't think it was the case. It was done deliberately by the West's agents, who are also members of our parliament," said Alvi.
ls/aw (Reuters, dpa)