A Pakistani court on Wednesday convicted 31 people over the lynching of a 23-year-old university student in April 2017.
Mashal Khan, a journalism student, was dragged out of his dorm room at Abdul Wali Khan University in the northwestern town of Mardan on April 13, 2017, and killed by a mob following false rumors that he had shared blasphemous content on social media.
"Blasphemy" — the concept of insulting a religion, in this case Islam — is treated as a criminal offense in Pakistan. It can carry the death penalty.
Read more: Pakistan's alarming social media death sentence
A total of 57 people faced trial after the mob murdered Khan.
The sentences:
One man received the death sentence.
Five were handed life in prison.
An additional 25 were sentenced to four years in prison.
The remaining 26 were acquitted due to lack of evidence.
Government to challenge acquittals
Among the accused were students, teachers and some officials from the Abdul Wali Khan University, which is named after a secular political leader in northwest Pakistan. They all pleaded not guilty.
An investigation had found that the group planned the killing.
Read more: Blasphemy allegations – the new way of muzzling free speech in South Asia
The sentences came six months after the trial of 61 suspects charged with murder and terrorism began in September 2017, police official Edhi Amin said. The proceedings were held inside a prison compound for security reasons.
Read more: Pakistan Christian teen detained over 'Koran burning'
Shaukat Ali Yusafzai, a government spokesman, said the government would challenge the acquittal of the 26.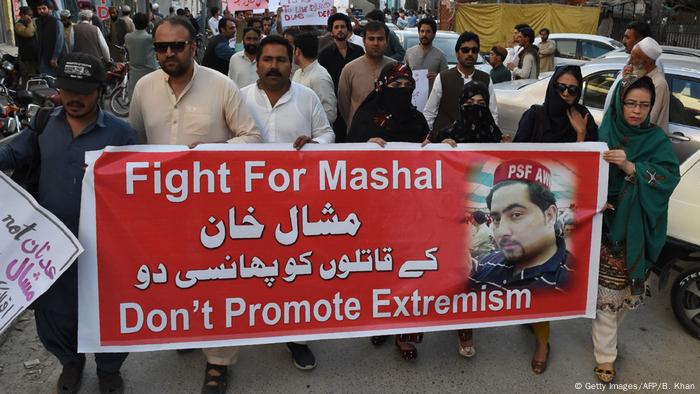 Pakistani civil society members and university students protest against the killing of Mashal Khan, on April 15, 2017
The punishment for blasphamy in Pakistan: Blasphemy against Islam or the Prophet Muhammad can carry the death sentence in Pakistan, but mere allegations often suffice to spark mob violence. Pakistan's blasphemy laws became severe under former military ruler General Ziaul Haq in the 1980s.
How the Pakistani public responded: The death of Khan angered civil society and rights activists in Pakistan and saw people call for justice for Khan, as well as urging reform of blasphemy laws.
law/msh (AP, AFP, dpa, Reuters)