Pakistani police finally brought dozens of "missing" Christians to a court in the southern city of Karachi on May 16 after denying their arrests for weeks.
The families of the "disappeared" Christians had complained that the security forces picked up more than two dozens of Christians — mainly youths — without any charges from the Gulshan-e-Iqbal area and some other parts of the port city.
Christians in Pakistan face widespread legal and cultural discrimination and are often targeted by Islamists and fundamentalist mobs. The latest arrests in Karachi have further increased the sense of insecurity among the minority community.
Read more:
Christians in a Pakistani village threatened: 'Convert or Leave'
Gunmen kill Christians and Muslims in Quetta, Pakistan
The authorities have now formally charged the arrested Christians for possessing arms and being involved in criminal activities.
Karachi, a metropolis of over 18 million people, is home to thousands of Christians, who have been living in the city for decades. They are mostly impoverished, living in slums and employed as low-paid workers. Many of them have migrated from the Punjab province to Karachi in the past few decades; some migrated from India to Pakistan even before the two countries gained independence from British rule in 1947.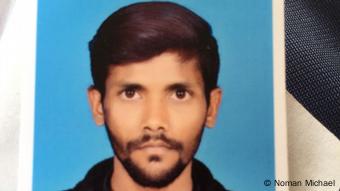 Smith Michael was picked by police on May 8
Unlawful arrests?
"In March, they [security forces] picked up six men. In April, four more were arrested and on May 8 the police rounded up 14 more from the G-13 area of Gulshan-e-Iqbal," Noman Micheal, brother of Smith Michael, who was picked by police on May 8, told DW. "If they were criminals, why didn't the police bring them to the court within 24 hours as demanded by law?"
Michael said that many Christian youths are not sleeping at home fearing arrests. "They have moved to other areas. We are an easy target because Christians are vulnerable in Pakistan. Even the country's media don't report about our protests and demonstrations. We feel helpless," Michael complained.
Naveeda Bibi, whose 29-year-old son Sikander Saif was also picked up, told DW that her son was arrested on May 8 and brought to a court in Karachi on May 16. "When the security forces picked him up, they said he would be interrogated and released afterwards. But they have booked him in a fabricated case."
"We are very poor and don't know how to get justice for our loved ones. Legal battles are very expensive in Pakistan and we don't have the financial resources to pursue that," she added.
The Christian community also accused security officials of harassing them. "When we asked why they are taking away our boys, they started threatening us. They entered our house without any notice," said Khalida Bibi, whose relatives are among the arrested group of Christians.
Drive against petty criminals
"Even if the arrested people are criminals, the police shouldn't have kept them in detention without charges. Such actions confuse people," Jibran Nasir, a human rights activist in Karachi, told DW.
But the police finally came up with formal charges against the Christian men on May 16. To the surprise of the residents of the Christian colony, most of these people were charged with committing various criminal activities.
Hanooq Salamat, a Christian activist, is of the view that the police use arrests and detentions to extort money from the families.
"Had the police acted against real criminals, Karachi would not have been such a lawless city. Snatching of mobile phones, car thefts and mugging have become a routine in the city," Salamat told DW.
But the Karachi police insist they did not arrest any innocent person.
Suhail Ahmed, the spokesman for Sindh Police, told DW that "only those involved in crimes are being rounded up."
"It is part of our drive against street crimes," Ahmed said.
Living in fear
The police mistreatment of Christians is not a new occurrence in Pakistan. In February, Sajid Masih, a 24-year-old blasphemy suspect, leapt from the fourth floor of the Federal Investigation Agency's (FIA) Punjab headquarters in Lahore and severely injured himself. In a video statement, Sajid alleged that he jumped because the FIA officials tortured him and ordered him to "sexually assault" Patras Masih, his cousin and the main accused in an online blasphemy case.
"They asked me to abuse myself, but I refused to do so. Later, they asked me to sexually assault my cousin, but I remained silent and jumped from the building," he said.
Following Sajid's accusations, FIA Director General Bashir Ahmed Memon ordered an official inquiry.
Patras, 21, who is a resident of Lahore city, was arrested by police last week for allegedly posting a "blasphemous photo" on Facebook on January 16. The arrest was made after hundreds of supporters and activists of the Islamist Tehreek-i-Labaik Ya Rasool Allah (TLYRA) party staged protests against Patras. The TLYRA outfit has gained prominence in Pakistan since their "blasphemy siege" of the capital Islamabad in October last year.
Pakistan's Christians and other religious minorities complain of legal and social discrimination in their country. In the past few years, many Christians and Hindus have been brutally murdered over unproven blasphemy allegations.
One of Pakistan's most high profile blasphemy cases is that of Asia Bibi, a Christian woman who was found guilty of committing blasphemy while working in the fields in 2009 and was sentenced to death. In 2014, her death sentence was upheld by the Lahore High Court. Amnesty International called the verdict a "grave injustice."
In one case, a young Christian girl with Down syndrome was accused in August 2012 of burning pages upon which verses of the Koran were inscribed. Rimsha Masih was taken into police custody and only released months later, when charges were dropped. The case caused an uproar in her home town and beyond and sparked riots and violence against Christians in the region. In 2013, she and her family relocated to Canada.
In 2014, a Christian couple was beaten to death for allegedly desecrating a copy of the Quran. Their bodies were subsequently burned in a brick kiln.
In September last year, a Christian man in Pakistan was sentenced to death for sharing "blasphemous" material on WhatsApp.