Speaking at a media conference alongside French President Francois Hollande on Friday, Merkel said that Europe had been in a "critical situation" since the Brexit vote and it was essential to set out a plan for the EU.
Merkel said the EU leaders had agreed that illegal migration had to be stopped and that more agreements with partners such as Turkey needed to be explored. Merkel said it was essential to work on the causes of flight, and develop more cooperation and agreements to help create conditions so that people did not need to flee.
The two leaders said they would work together to make a "success" of the bloc after Brexit. "Germany and France will very intensively play their part in the coming months in order to make all this a success," Merkel said. She said the EU members would present a new agenda in March.
Both Hollande and Merkel face elections next year.
"Europe can, must move forward as long as it has clear priorities: protection, security, prosperity and the future of the youth," Hollande said. "France and Germany will continue to work so that we can deliver concrete measures," he added.
Merkel and Hollande said the 27 leaders had agreed on a road map for measures in defense, security and the economy that would be approved at a meeting in Rome in March to mark the 60th anniversary of the EU's founding treaties.
France and Germany had produced a joint defense plan in the run-up to the summit.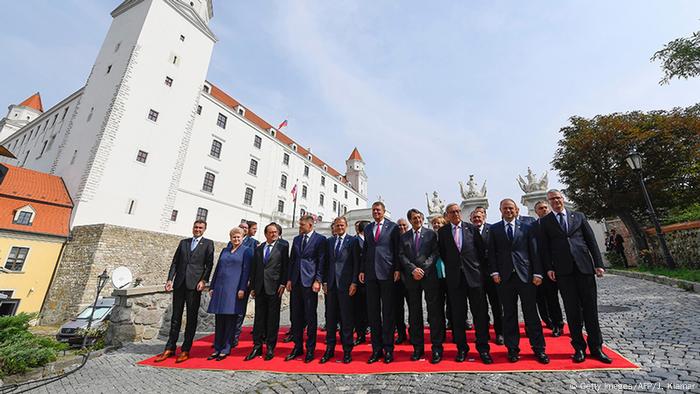 The EU leaders at Bratislava
Summit statement
At the conclusion of the EU summit in Bratislava, held without the United Kingdom, the 27 members issued a statement outlining a six-month road map aimed at addressing concerns over migration, security and economic and social issues.
"Although one country has decided to leave, the EU remains indispensable for the rest of us," the 27 leaders stated, adding that they were "determined to make a success" of the bloc.
"Bratislava is the beginning of a process," according to the statement. The talks are to be followed up by meetings in Valletta early next year and concluded at a summit in Rome next March.
The statement outlined ways to tackle inflows of migrants to prevent a return to the "uncontrolled flows of last year."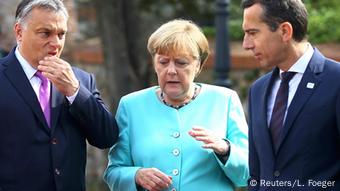 Hungary's Prime Minister Victor Orban, Chancellor Merkel and Austria's Chancellor Christian Kern
Hungary at odds with EU policy
Hungary's Prime Minister Victor Orban has been pushing for an alternative. He said the summit had been unsuccessful in changing the EU immigration policy.
Orban said that the Balkans leaders would meet in Vienna at the end of next week. His aim was to change Europe's "self-destructive and naive" immigration policy.
The Hungarian leader said the lack of a firm ceiling on the number of migrants Germany allowed created a "suction effect" attracting more migrants. "Something must happen in that respect," Orban said.
jm/ss (dpa, Reuters, AFP)