Gauland, who quit Chancellor Angela Merkel's Christian Democrats (CDU) in 2013, told the tabloid newspaper "Bild" Tuesday he would relinquish his lesser AfD roles in the regional state of Brandenburg.
His posts of AfD Brandenburg chairman and leader of the AfD's opposition group in Brandenburg's Potsdam assembly would go to his local deputy, Andreas Kalbitz, Gauland said.
"At the regional party conference in April I won't stand again," Gauland told "Bild."
On Sunday, the AfD's Brandenburg branch nominated the veteran politician and jurist to head its regional list of candidates to contest Germany's Bundestag election due nationwide on September 24.
Taboo breach
Since 2014, the anti-foreigner AfD has won opposition footholds in 10 of 16 assemblies in Germany's regional states, and has polled ahead of the Greens and the post-communist Left party in recent nationwide surveys.
The AfD's rise breaks with a taboo in post-World War II Germany, where guilt from the Nazi era runs deep.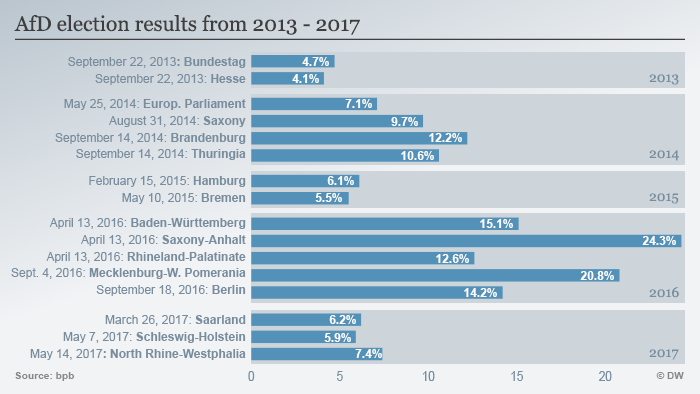 If state-level success is any indication, the AfD will likely win Bundestag seats this fall
Last week, Gauland, a rival of AfD co-leader Frauke Petry, defended Holocaust-denial remarks made by Björn Höcke, the AfD's Thuringia state branch leader, claiming Höcke had "not said anything for which he must be ashamed."
On January 17, Höcke, a history teacher on sabbatical (pictured above (R) alongside Gauland), described Berlin's Holocaust memorial as a "monument of shame" and called for "a 180-degree shift in the politics of remembrance," triggering a public uproar.
'Disgrace' for Germany
Schulz, the center-left Social Democrat's designated top candidate, retorted last Sunday that "the party of the Höcke's, Gauland's and Petry's is no alternative for Germany but instead a disgrace for the Federal Republic."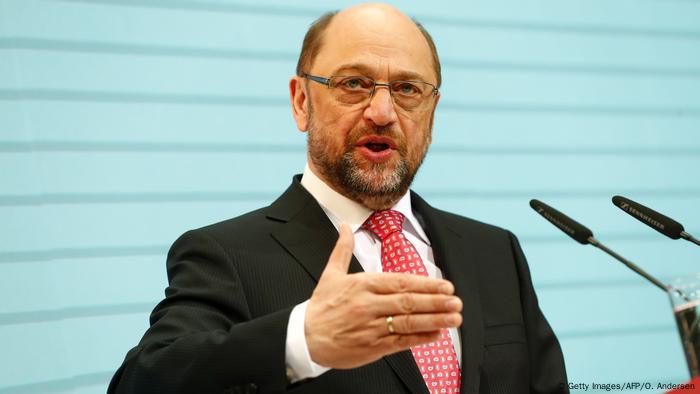 Supporters of Schulz hope the long-time European politician will be able to counter the AfD's anti-EU arguments
Last Friday, Höcke was barred by authorities from entering Buchenwald, the former Nazi concentration camp, as Germany marked International Holocaust Remembrance Day.
The Buchenwald memorial site, near Weimar, lies within Thuringia state.
Gauland praise for Trump
On Monday, Gauland praised President Donald Trump's edict banning Muslims from seven nations from entering the USA, saying Merkel should follow Trump's example so such countries would "get a grip" on security and poverty.
Gauland made headlines last year after insulting German sportsman Jerome Boateng, saying "people find him good as a footballer, but they don't want to have a Boateng as a neighbor."
Between 1987 until 1991, Gauland - then a CDU functionary - ran the chancellery of Hesse state's then premier Walter Wallmann. Gauland quit the CDU in 2013 and switched to the upstart AfD, which was then focused on opposition to eurozone bailouts.
ipj/kms (dpa, AFP)