When all was said and done, Johanna Spanke felt hurt, embarrassed and angry. The 30-year-old PhD candidate just wanted to grab a drink and treat herself to a piece of cake in a cafe in Berlin's Prenzlauer Berg neighborhood. In tow were her boyfriend and 3-month-old baby.
"We had just paid at the counter and had picked up our forks to eat the cake," Spanke told DW. "One of the staffers then said that it's not allowed to nurse babies here."
She said she was perplexed since she hadn't started breastfeeding or shown any intention of doing so, but grew concerned what she should do if the baby became hungry. She then decided to talk to the owner, she said.
"He was very gruff and arrogant," Spanke said. "He said it was prohibited since this was an upscale cafe." Spanke said she tried to reason with him, asking whether it would be OK to breastfeed in a very discreet way, covering herself and the baby with a cloth.
"But he said no," Spanke said. "He would give us our money back, but then we should leave."
Legally speaking, owners can throw out undesirable guests by exercising property rights.
'Decided to leave'
That's not how Ralf Rüller, the owner of said coffeehouse, remembers the incident. "We asked a customer not to breastfeed [by the] window. It would have been possible to do this in the back [of our café]. The customer decided to leave," the Barn Roastery wrote on its Facebook page. That's the same statement Rüller sent to DW when approached for an interview.
"We are not against breastfeeding," the statement reads. "We ask to do this discreetly and with respect towards our other guests - which are also coming from other cultural backgrounds."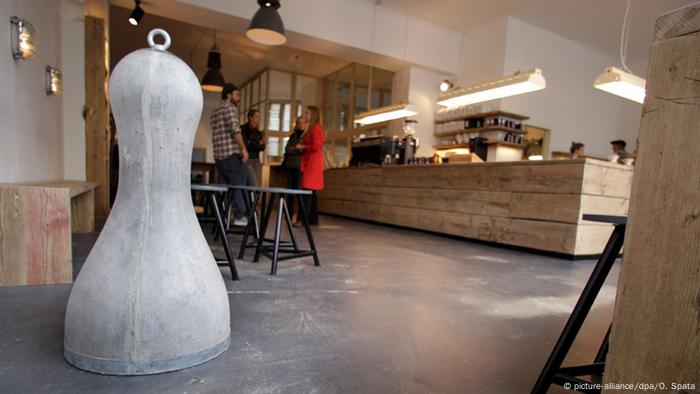 Berlin's Barn Roastery came under fire in 2012 when it installed a bollard to keep strollers out
Spanke said the Barn did not offer the alternative to breastfeed somewhere else in the cafe.
"I was very hurt and felt snubbed," Spanke said. "We didn't make a fuss by pointing this out to other customers - because I was also a bit afraid that they might say 'Yes, it's really disgusting, there's no place for that here.'"
The cafe had already sparked uproar in 2012, when it installed a bollard to keep baby strollers out.
"We are probably not the first choice for someone visiting with an infant or young child. We ask to respect this - there are many alternatives in the neighborhood", the Barn's statement ends.
Taking action
Back home, Spanke decided to take action and set up a petition - she's calling on German Family Minister Manuela Schwesig, demanding a law that allows women to breastfeed their babies in public. So far, she's just shy of 17,000 signatures.
Breastfeeding in public is not forbidden, but it's also not specifically allowed. That's what Spanke wants to change - she's hoping her petition will lead to an open debate about the true nature of breastfeeding.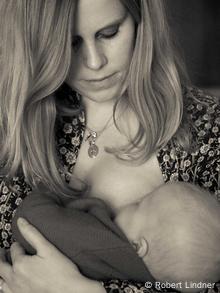 Spanke hopes people will no longer regard breastfeeding as disgusting
"Women's breasts have apparently become so sexualized that it's considered disgusting now," she said. It's recommended to breastfeed babies at least until the baby is 6 months old, she added.
The Federal Anti-Discrimination Agency called bans on breastfeeding in public places gender-based discrimination.
The National Breastfeeding Committee at the Federal Institute for Risk Assessment, which advises the government on - you guessed it - breastfeeding, commented on a similar petition and said nursing babies should be put under legal protection. It's to be assumed that a substantial proportion of breastfeeding mothers shun doing so in public, the statement reads.
Countless studies have proved that breastfeeding is good and important for both mother and child, a spokesperson of Germany's Family Ministry told DW. It's crucial for a society that wants to be family-friendly to enable mothers to breastfeed their children in public, the spokesperson added. "It should be possible to find good solutions in the interest of all parties."
Where to go?
On social media, some point out the obvious hypocrisy: "Use boobs to sell everything from cars to cheeseburgers and nobody cares. Use boobs to feed a baby in public and everyone loses their minds," one post reads.
But there are also others who voice their anger about the "disgusting" practice of breastfeeding, saying their are put off by women nursing their babies right next to where they are eating. They suggest that women use bottles instead or simply feed babies at home. They don't care what the women do as long as they stay out of sight. Often, they use derogative words for breasts.
Spanke plans to submit the signatures to Family Minister Schwesig, and hopes for change in society. "It really seems to be a big issue," she said. "Unfortunately, this seems to be a form of discrimination that's accepted by society."