Demonstrations are nothing out of the ordinary in France. But the yellow vest protests are different. The grassroots movement that sprung up on social networks mostly consists of working-class people who had never before taken to the streets. They are outraged by new fuel taxes, which will make it even more difficult for them to make ends meet. That adds to their feeling of being left behind by the politicians in Paris.
Around 300,000 people demonstrated last week across France. Tens of thousands have continued to block roads, shopping centers and government buildings over the past few days. On Saturday, another large gathering is planned in Paris.
Christophe Chalencon has been blocking roads in the southern Vaucluse department. The blacksmith in his 50s voted for the centrist Emmanuel Macron in last year's presidential election, but now feels betrayed by him.
"Macron is behaving like a king and just doesn't understand us people in the countryside, even though we represent more than 60 percent of the population," he said.
Read more: Can Macron's banlieues plan reach the poor?
'Fuel taxes are the final straw'
Chalencon believes a wind of revolt is sweeping through France, which will bring down the government. "Our purchasing power has been going down constantly and many of us rely on cars to get to work — these fuel taxes are the final straw," he told DW.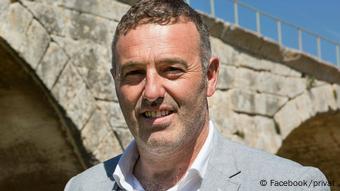 Christophe Chalencon, like many others, believes Macron is out of touch with ordinary people
Chalencon has emerged as the regional go-to person for the media of a movement that claims to be leaderless and is refusing to be picked up by political parties or unions. Only one branch of the union Force Ouvriere has now said it would join the protests to show solidarity.
That also means Macron has no one to negotiate with. A problem that is very much of his own making, said Stephane Wahnich, head of the polling agency SCP Communication.
"The president has been undermining France's intermediary bodies such as the unions or employers' associations since he came to power," Wahnich said. "He prefers talking directly to the people."
But when these people go to the barricades without any guidance by France's demonstration-savvy unions, chaos ensues. Two people have died and more than 580 have been injured so far, according to government figures. And the protests seem to get more violent by the day.
Wahnich thinks Macron has been caught off guard by the hefty reactions. He's putting this down to the president's lack of experience as a local politician. The 40-year-old Macron had never been elected to a public office before 2017.
<div class="opinary-widget-embed" data-poll="has-macron-lost-his-mojo_deutschewelleen" data-customer="deutschewelleeng"></div> <script async type="text/javascript" src="//widgets.opinary.com/embed.js"></script>
'A deep sense of injustice'
"He's carrying out his reforms from an accountant's perspective," the pollster said. "Increasing taxes on fuel might make sense to him, but his reforms amplify a deep sense of injustice among those who are already struggling to make ends meet. Especially as the measures come after he increased taxes for pensioners and lowered those for investors."
But Alexis Spire, a sociologist at the French National Center for Scientific Research, thinks Macron is pursuing a clear strategy: "He has actively decided not to take the protesters' demands into account to maintain his credibility as a climate champion."
That's to satisfy what's left of his electorate, largely highly qualified people in the cities, ahead of next year's European elections. Currently, only about a quarter of the French have a positive opinion of Macron.
'More people likely to vote for the far right'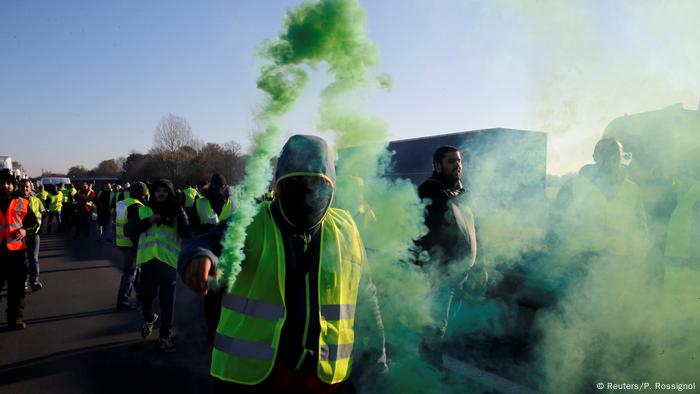 The current protests could play into the hands of right-wing parties
But Wahnich doubts Macron's attitude will help him siphon off many votes in 2019 — especially as more than two-thirds of the French support the yellow vests, according to the latest polls.
"More people will vote for the far-right parties such as the Rassemblement National [formerly Front National (FN)]. The current events are amplifying their feeling of exasperation with an elite in the capital that ignores their needs," he said.
Such an outcome should be to the liking of Malik Mahieu, one of the few young protesters taking part in the rallies. The 20-year-old student has been organizing events in the northern town of Lille.
Mahieu used to be a member of the FN and is now part of the far-right populist party Debout la France. He stressed, however, that his actions are not linked to his party affiliation.
"I participate because I see how my parents, like many others belonging to the working class, are struggling to make ends meet. People my age should fight for a better future," he told DW.