After a stint as a stay-at-home mom, 37-year-old Foune Fofana is heading back to the job market, hoping to turn her Malian cooking heritage into a serious business.
But first, she is learning the basics at a vocational education center in the Paris suburb of Grigny. On a recent morning, Fofana joined a classroom of women fine-tuning their resumes so their talents outshine one of their biggest handicaps: their address.
"Everyone is in the same boat — finding a job if you live here is hard," Fofana told DW. "Kids looking for internships get rejected by businesses once they find out where they come from."
Read more: As French suburbs rage against police, some take a different tack
For decades, successive governments have tried to find answers for France's disaffected banlieues — codeword for the gritty, crime-ridden, high-immigrant suburbs ringing the capital and other cities. Their existence not only represents one of the most blatant challenges of France's egalitarian creed, enshrined in its constitution, but poses more practical economic and social challenges, including concerns about radical Islam.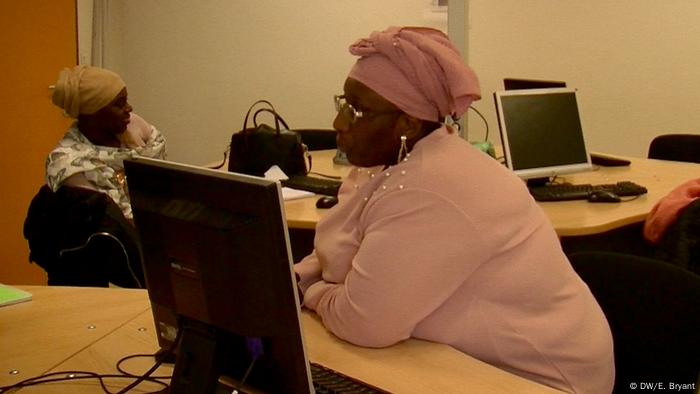 Grigny resident Foune Fofana wants to be a chef
Now, the burden lies with the country's latest leader, Emmanuel Macron, who was widely expected to outline his own battle plan for the banlieues next Tuesday. But on Friday, French media, citing presidential sources, reported Macron will instead present much more modest "concrete measures" — and largely bury an ambitious report he commissioned for turning around the suburbs.
Many, including Fofana, are skeptical that the man nicknamed the "president of the rich" can recast himself as the president of the poor. "I voted for Macron because I didn't have a choice," said Fofana. "He needs to do things for the young, find them jobs, help neighborhood associations."
At the bottom of every indicator
Located an hour's train ride from Paris, Grigny sits at the bottom of just about every development indicator. It is considered one of the poorest towns in France, with some of the highest rates of unemployment, school drop-outs and illiteracy.
Grigny's Communist Mayor Philippe Rio is quick to rattle off these statistics. He cites others — like a dearth of basic health care, like basic vaccinations and breast cancer screenings — that are "unimaginable" in other parts of France.
"The French state has failed in the policies it has instituted for years," Rio told DW, adding other banlieue mayors like himself are facing burnout. "We have the feeling that the authorities don't listen to us, that they mock us and throw crumbs our way. And we're exhausted."
In October, Rio and 150 other mayors gathered here to launch the "call from Grigny" — demanding a national response to what they deemed a national crisis.
A month later, Macron responded, tapping a popular former minister, Jean-Louis Borloo, to help him draft his banlieue plan. Borloo toured the country, visiting blighted housing projects and meeting with mayors like Rio.
Borloo report
In April, Borloo unveiled a massive 60-page report carrying 19 major proposals for rebooting the suburbs and a hefty, €48 million price tag. Mayor Rio is adamant Macron must accept all the proposals; cherry picking is not an option. "You can't remove one," he said, "or the whole thing will collapse."
But some doubt the French president will take that route — doubts that appeared to be confirmed by on Friday — citing the massive cost alone as unrealistic. Still others say Borloo's plan does not address more endemic problems — like overcoming innate prejudices by employers and French society more broadly.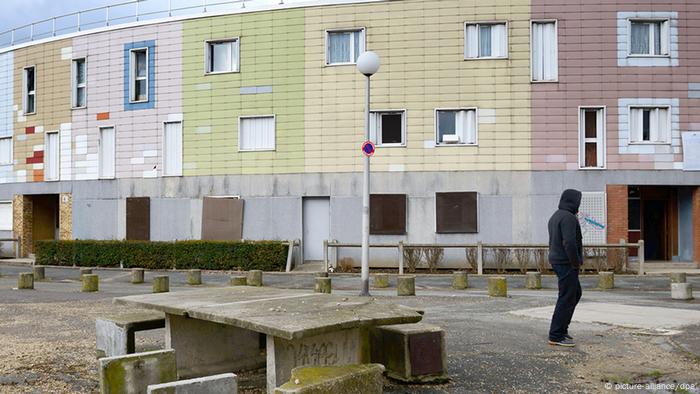 Grande Borne in Grigny has an unemployment rate of roughly 40 percent
"What he's proposing is largely about state financial support," said sociologist and urban researcher Tomas Kirszbaum. "But what's at stake isn't just about finances."
Political analyst Bruno Cautres believes Macron will adopt some of the proposals. Either way, he will face a daunting task of addressing massive inequalities touching unemployment, housing, health care and transportation. "It's true that Macron's natural inclination is towards the innovators and entrepreneurs as a real source of economic dynamism," Cautres said.
"But it will be very important for him to show he also cares about tough neighborhoods, and to acknowledge innovation is also possible there."
The banlieues' better days
French banlieues have not always been equated with despair and violence. In the 1970s, renowned architects crafted idealistic urban planning projects to house the country's working class — which morphed into Portuguese and then North- and sub-Saharan African immigrants. But in Grigny and elsewhere, the sleek high-rises and green spaces decayed into breeding grounds for drug dealing and crime.
In 2005, the banlieues exploded into violence that spread countrywide. For some, like Grigny, more riots followed, pitting angry youth against frustrated police.
Read more: Ten years after French riots, new buildings, old resentments
In January 2015, Grigny native Amedy Coulibaly attacked a kosher supermarket in Paris. Claiming allegiance to the "Islamic State," he killed four hostages before being shot dead by police.
But change is certainly afoot here. Bulldozers bite into the earth, and billboards pitch apartment sales for upcoming housing projects. A new mosque has been built with funds raised by the local community.
The town has launched training and education programs the Borloo plan wants replicated elsewhere. "We have quickly considered ourselves as a laboratory," Mayor Rio said. "In an exceptional situation, we had to think differently, craft public policy and actions differently."
At the vocational education center where mother Fofana is learning the restaurant business, director Laurence Richard cites programs that help residents learn French and trades.
Of the 500 students enrolled each year, about 70 percent find long-term jobs or internships, "which is a very good rate, especially in this context," she said.
For some, Macron's banlieue plan will be a key test of his young presidency. "He has an exceptional opportunity to succeed," Rio said. "All the elements are there. We're just waiting for a green light."