Photos of their smiling faces are back in the newspapers these days and their names are etched in graffiti. "Zyed and Bouna … we won't forget you," one poster days.
Exactly 10 years ago this week, this working-class Paris suburb exploded into violence after 17-year-old Zyed Benna and 15-year-old Bouna Traore were electrocuted in a power sub-station as they hid from police. The riots spread across the country, igniting pent-up anger about economic and social injustices in France's rundown suburbs.
Clichy-sous-Bois became a symbol of urban decay and the difficulties of integrating the country's millions of ethnic immigrants - issues that resurfaced in January, following the Paris terrorist attacks.
The town looks very different today. The carcasses of burnt vehicles and buildings are long gone. Tractors bite into the earth, promising a new tramway link. Sparkling new public housing is edging out peeling, graffiti-scarred towers. For Moroccan retiree Yahya Jaiel, shopping at Clichy-sous-Bois' weekly market, the change is "100 percent."
"Things are good right now," said Jaiel, pushing his cart past stands piled with olives, mint and Arab gowns, attesting to the town's ethnic makeup. "The young people, they go to school, there are no problems."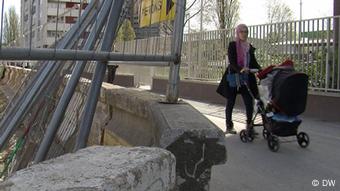 The government has been investing in housing in decaying suburbs like Clichy-sous-Bois
Here and in other gritty suburbs, the state is investing massively in infrastructure. But the results are mixed - seen by the jeers that greeted French President Francois Hollande this past week, as he visited a nearby suburb.
"There are no lost neighborhoods in the French Republic," Hollande said there, as he announced the creation of a new economic development agency aimed to help turn around struggling towns like Clichy-sous-Bois. "There is no marginal France next to a better France in the cities. There is only one France, where equality must be guaranteed."
Promises, promises
Many don't believe those words. Despite efforts to lure in businesses, Clichy-sous-Bois' unemployment rate is twice the national average.
"The government has done nothing," said resident Mohammed Chachoua, who sells olives at the market. "It's just made promises."
For 18-year-old high school student Mehdi Hassani, ambitions to become an electrician remain elusive. "We still have the label from the 2005 riots. We're still considered delinquents and druggies," he said. "Especially if you're an Arab, a black or a Turk, it's really hard to find work."
At Mission Locale, an agency helping young people finds jobs and training, director Pierre Mouget lists the strikes against them.
"We have a transport problem; it's very hard to get to and from Clichy, which is also one reason so few businesses have moved here," he said. "Some things are going in the right direction, but unfortunately, we still suffer from the bad image of what happened 10 years ago."
The problems plaguing Clichy-sous-Bois and other restive French suburbs were back in the spotlight after the Paris attacks. All three assailants were ethnic immigrants who grew up in working-class towns around the capital.
At some high schools, students refused to observe a nationwide minute of silence to mourn January's shooting victims. The exodus of hundreds of young French to join jihads in the Middle East has also fed soul searching and fears that the suburbs are becoming incubators of religious extremism.
Investments in urban renewal
In March, the French government launched an action plan for the suburbs that includes more integration in social housing and new measures against discrimination. But critics like Mehdi Bigaderne, the deputy mayor of Clichy-sous-Bois, believe they are insufficient.
"The real question is: How did we get here?" he said. "Because the young people who committed terrible, barbaric acts didn't come from Iraq, or Algeria, or Morocco. They're French products. It's the French Republic which created these terrorists."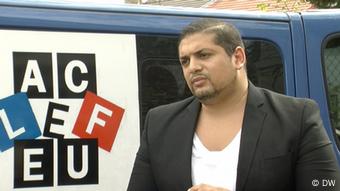 Bigaderne says the focus should be on the 'human problem'
Bigarderne helped to found a citizens empowerment group called ACLEFEU in the aftermath of the riots. He faults successive French administrations - both to the right and the left - for focusing on urban facelifts while failing to solve what he calls the "human problem."
"I regret that we had to wait until the Charlie Hebdo attacks for people to realize it's important to work on citizenship issues with young people, when ACLEFEU has been saying this since 2005," he says. "You tell a kid all his life that he's a nobody and useless - and then one day he finds someone who tells him he can go to paradise. Yes, he'll be attracted."
A photo of Zyed and Bouna hangs in ACLEFEU's office. The pair were chased by police as the returned home from a soccer match.
In May, a French court acquitted two officers who had been accused of doing nothing to help the boys as they headed towards the power station. Their families and many town residents are bitter about the verdict - feelings that will likely be revisited on Tuesday, when the town commemorates the 10-year anniversary of the boys' deaths.
"Every year, we come and put flowers in front of the school they attended," said town councilor Faycal Bouricha. "Nobody has forgotten."