It's been a decade since images of burning cars in 'banlieues' went around the world, documenting the riots by young people in a number of French suburbs, mainly Paris, in response to what they perceived as injustice on the part of law enforcement and the federal government.
The initial spark that led to weeks of fires was the October 2005 death of two teenagers in a blighted Paris suburb. Fleeing police, they lost their lives when they entered a power substation to hide and were electrocuted.
A criminal court in Rennes has now acquitted the two police officers - accused of complicity in these deaths through their inaction. The presiding judge ruled that officers Sebastien Gaillemin and Stephanie Klein could not be held responsible, in a long-awaited verdict that observers say could reignite protests in French cities.
'…wouldn't pay much for their hides'
Thousands of vehicles were torched, public buildings were burned and thousands were arrested in the three weeks of riots after the deaths of Bouna Traore and Zyed Benna.
On the evening of October 27, 2005, Officer Gaillemin was chasing three teenagers and saw them head toward the power station but did not pursue them to help them avoid the potentially fatal danger. Instead, he said into his police radio: "If they enter the site, I wouldn't pay much for their hides [French idiom: 'wouldn't give them very much of a chance']."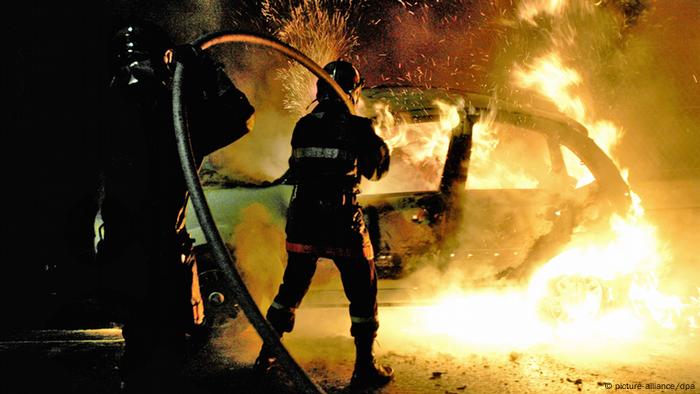 Observers warn that anger could reemerge on French streets like it did recently in Baltimore
Klein, an inexperienced police intern, was coordinating radio communications during the situation and received the remark. No police entered the power station initially. One of the three teenagers, Muhittin Altun, now 27, survived with severe burns.
Neither officer had a "clear awareness of grave and imminent danger" to the youths, as required by French law to convict them for failure to assist, Judge Nicolas Leger said in his verdict.
The victims' families have repeatedly claimed that the officers could have saved their loved ones, in a series of trials that have been postponed time and time again.
An attorney representing them called the verdict a "huge disappointment." Parents, other family members and the survivor Altun have been waiting 10 years with "high expectations that justice would be done," the attorney, Jean-Pierre Mignard, said. The families' lawyers had sought a prison term of up to five years and a 75,000-euro ($85,000) fine for the defendants.
Daniel Merchat, representing the two police officers, said that Monday's verdict merely reflected "what the defense has been arguing since the start."
Samir Mihi, president of a local youth association, ADM, said he didn't "want people in our neighborhoods to be taken hostage again" like in the 2005 riots. "And I wish people would talk about the deaths of Zyed and Bouna, not about burning cars," he said.
glb/msh (Reuters, dpa)