"Just the other day, I was called a dirty Jew," Michel Serfaty is telling a Muslim man. "Now, you're going to say it isn't so."
The man does, indeed, begin to protest - that the remarks are shameful but don't reflect the sentiments of many Muslims. Drivers slow down to stare. Mostly at Serfaty, a striking figure with a black bowler hat and snow white beard.
The two men are standing in front of the glass-front headquarters of the Union of Islamic Organizations of France, or UOIF, a popular and conservative association with ties to Egypt's Muslim brotherhood. Men are tricking in for prayer on a warm and sunny afternoon.
It's a strange place to find a rabbi. But Serfaty is not your ordinary rabbi.
For the past decade, he's crisscrossed France in a beat-up minibus plastered with slogans like "Solidarity between Jews and Muslims," and "We're more alike than you think." He's met with Palestinians in Gaza and taken French imams to Auschwitz. But mostly he wades into tough French neighborhoods, striking up conversations with Muslim leaders, students and even drug dealers. Dialogue is what Serfaty's decade-old Jewish-Muslim Friendship Association is all about.
"Some people will take our flyers and throw them into the street, and say 'Jews must be killed,' and 'Hitler hasn't finished his work," Serfaty says. "You find the intensity of radicalism, but also wonderful young people."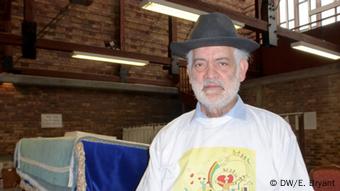 Serfaty counters prejudice, whether from Muslims or Jews
Since the Paris terrorist attacks - and last week's gruesome Islamist beheading near the city of Lyon - the rabbi's work has taken a new urgency. Fears of militant Islam have further fuelled long-simmering tensions between French Jews and Muslims, Western Europe's largest communities of both faiths. Anti-Semitic acts recorded by Jewish authorities have soared in recent years, doubling to more than 850 in 2014, compared to the previous year.
"The state has done nothing for years to improve things," Serfarty says. "During that time, I've gone to all the tinderboxes. I've heard the harshest things, but I've never had any incident."
"Which means," he adds, "that even with delinquents, there is the possibility of dialogue, of a handshake and a smile."
Rabbi and imam, side by side
Serfaty is seated in his synagogue, in the quiet Paris suburb of Ris Orangis. A Star of David casts a neon glow from the wall behind him. A mosque and an evangelical church are located just next door -a deliberate feat of urban planning to promote interfaith dialogue.
But the soldiers standing watch outside point to another reality. The rabbi has had round-the-clock protection since January's terrorist attacks. In a twist of irony, assailant Amedy Coulibaly grew up just a few kilometers away. He frequented a café owned by a member of Serfaty's congregation.
Prejudice goes both ways. Serfaty describes meeting a group of Hassidic Jews in Paris. "One tells me, 'Mr. Rabbi, you're mistaken,'" Serfaty recounts. "'Isaac and Ishmael hated each other. And we Jews and Muslims will hate each other forever.'"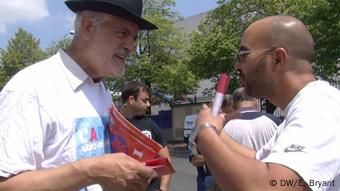 The rabbi makes a point of seeking out tough neighborhoods
Serfaty has built up a small team to shift those hardened views. On board the friendship bus are usually several young Muslim staffers - so far, no Jews have applied - and, often, his longtime travel companion, Imam Mohammed Azizi.
"Young Muslims once turned their backs to us," says Azizi who, like Serfaty, immigrated to France from Morocco. "They'd tell me it wasn't normal for a rabbi and an imam to walk side by side. But I tell them it is possible, it is necessary to do this work together. And today, the looks are changing."
Old tropes
On a recent morning, Serfaty drives to the UOIF's headquarters in La Courneuve, a bleak town outside the capital ringed by housing projects. As usual, he arrives unannounced, and is invited in for coffee by the association's finance officer Ghazi Wehbi.
The two exchange pleasantries and pose for photos. Wehbi says Serfaty reminds him of an uncle.
Back outside, Serfaty begins to hand out flyers to the faithful. A few push them away. But soon he's struck up a vigorous exchange with 38-year-old Adel Bouafi. A small crowd gathers as the conversation switches from the "dirty Jew" remark to Bouafi's complaints about Jewish clannishness.
"They call Sarcelles 'Little Jerusalem' - that's shocking in France," says Bouafi, naming a nearby town. Serfaty laughs. "That's an old story, dating back 2,000 years," he replies. "Every town where rabbis gather has been called Little Jerusalem."
"We need to act," Serfaty continues. "We need to break down barriers." The men gathered around begin to nod.
Later, Bouafi describes the rabbi as courageous, adding, "It's a really good initiative to meet young people, to open doors." Will it make a difference? "Everything is possible," he replies.