Officials said truck deliveryman Yassine Salhi made the admission to police Sunday in the southeastern city of Lyon. The 35-year-old father of three also gave "details about the circumstances" surrounding the killing, according to sources close to the investigation.
A convoy of police cars drove Salhi to his home in the town of Saint-Priest to find his passport, and the suspect was to be transferred to counter-terrorism authorities outside Paris later on Sunday.
Investigators in Lyon have spent the past two days questioning the Salhi over Friday's attack on a US-owned chemical warehouse. Police say he decapitated his boss and hung the head on the fence of the Air Products plant near flags displaying the Muslim profession of faith. He then rammed a truck into gas canisters on the site, setting off an explosion.
Salhi also allegedly sent a selfie with the victim to a Canadian mobile phone number. A source told news agency AFP that the gruesome photo was sent to Syria.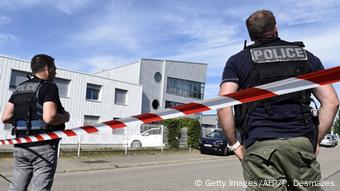 French police have lifted a 48-hour secure perimeter around the industrial site
Major terror threat
French authorities are working to establish possible motives behind the crime. Officials say Salhi has a clean criminal record, but he also has a history of ties to Islamic extremists. A testimony by a friend of the victim reported by newspaper "Le Figaro" suggested Salhi and his boss had had several heated arguments since the truck driver was hired in March.
"We don't know whether we're dealing with a fundamentalist who flipped or a real terrorist," one source close to the investigation told Reuters.
"Investigators are wondering whether this isn't just a simple criminal act."
No terror groups have claimed responsibility for the attack, although the beheading appears to imitate "Islamic State," which has publicly broadcast videos of its militants severing the heads of hostages.
French Prime Minister Manuel Valls warned Sunday that the world was "living under a major terrorist threat, and this terrorist threat is going to last."
It's not a question of whether there will be another attack, but "when" and "where," Valls said in an interview with i-Tele TV.
"We should know we're going to fight this terrorism over the long term."
nm/ng (AP, Reuters, AFP, dpa)