Ineos, an energy group run by British billionaire Jim Ratcliffe, recently bought French Ligue 1 club Nice from its previous Chinese-US owners in a deal worth between €100 million and €120 million ($115 and $128 million).
The final price would be more than the €79 million spent by the Qatar royal family to buy Paris Saint-Germain in July 2011 or the €45 million paid by US businessman Frank McCourt for the acquisition of Marseille in September 2016.
Among Ratcliffe's other sports ventures are Swiss football club Lausanne Sport and the Team Ineos cycling team, which was formerly Team Sky.
"We analyzed a number of clubs, in line with our business vision at Ineos – in terms of value and potential – and Nice corresponds with those criteria," Ratcliffe said. "We have made some mistakes with Lausanne, but we learn quickly, these were rectified and we are already seeing the results."
Ratcliffe said he wants to establish Nice as a team that competes in European club competition on a regular basis, "and importantly, sustain it."
But the proof of the pudding will be in the eating, observers say. After more than 60 years since being a key founding member of European soccer's governing body, UEFA, French club football has very rarely been anything but marginal. So, will this change?
France feet first
France is showing signs that it could be the next football market that investors target. Other transactions of French clubs in recent months include Bordeaux (€95 million) and Lille (€80 million).
French football executives believe with the right investors, Ligue 1 can compete with the Premier League, the world's most valuable league. With a comparatively low cost of entry compared to England, Germany and Italy, French football has a chance to do this, they believe.
"Thanks to Euro 2016, we have 16 stadiums with over 30,000 seats, including eight of over 40,000 seats," CEO of French football's governing body (LFP), Didier Quillot, said in an interview with SBD Global.
"Of the top 10 academies in the world, five are French: Lyon, Rennes, Bordeaux, Paris St. Germain and Toulouse. France is the best player production factory in the world," he said.
Ligue 1 currently ranks fifth in Europe's "big five" leagues in revenue, behind the English Premier League, German Bundesliga, Spanish La Liga and Italian Serie A, according to Deloitte. "There is room for progression. There is no reason why, in the next two or three years, the league cannot become number two in Europe," Quillot went on.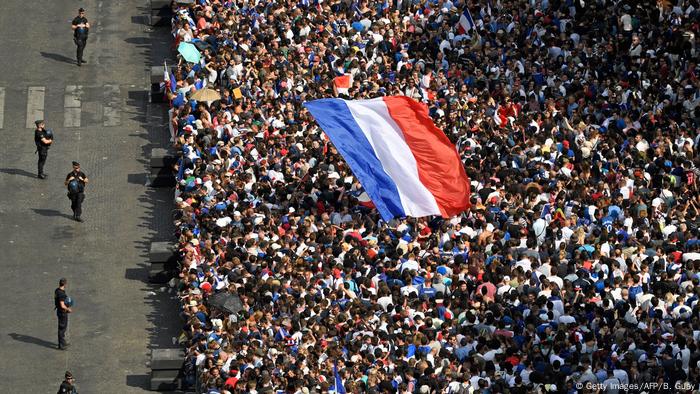 Supporters on the Champs-Elysees avenueon July 16, 2018 waiting for the national team for after France won the Russia 2018 World Cup
Stepping up
The first legal statutes restricted foreign investors in French football, compelling clubs to hold a minimum 33% participation in their private companies, protected French football from foreign investors for a long time until the start of the 2000s, Aurelien Francois, lecturer in sport economics at Rouen University in France, told DW.
"But French football clubs have progressively adopted more 'liberal' statutes introduced into French law since then," Francois said.
Today, all French clubs have structured themselves in SASP "Societe Anonyme Sportive Professionnelle" or SAS "Societe par Actions Simplifiees," which have no restrictions in terms of foreign investments.
"I would say that there are, in reality, no more strong restrictions in the French football business," Francois said. "If a club's owner wants to sell his club, he needs an agreement of the majority of the shareholders on one side, but in plenty of cases, the owner has more than 50% of the club's capital."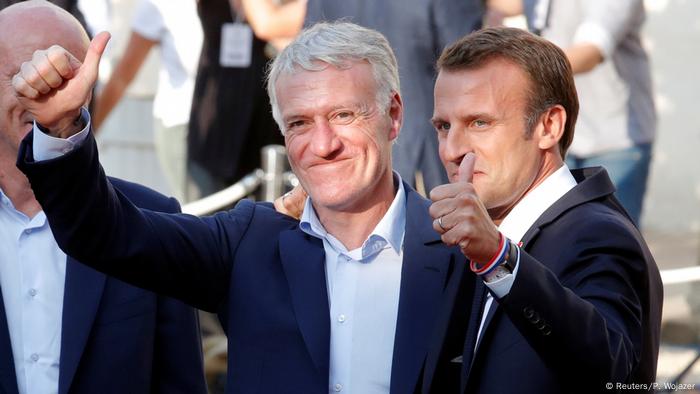 President Emmanuel Macron and team coach Didier Deschamps after victory in the 2018 Russia Soccer World Cup
Following Italy and England, not Spain and Germany
"I would say that the French football business is quite close to the Italian case, and in a lesser extent, to the UK case," Francois says. "Indeed, the French model seems to be entrenched in a liberal logic due to the new rules and legislation, which has opened the way for foreign investments."
In this sense, the French model is very different from the German and Spanish model, Francois adds.
I
In the Bundesliga, there is the 50+1 rule stating that, in order to participate to national competitions, a not-for-profit club must hold the majority of its private company. As a consequence, this rule hinders the capital shareholding by foreign investors.
In the Spanish model there is no rule obliging foreign investors, like hedge funds to take part in the club's capital.
The governance model of the most prestigious clubs, such as Real Madrid, Barcelona, and to a lesser extent, Athletic Bilbao and Osasuna, makes the entry of foreign investors impossible. Indeed, they are governed by an assembly of "Socios" who hold the voting rights of their clubs.
More on the cards?
"Given the fact that football business is continuously in deficit, I would say that all club's owners are potentially sellers," Francois says.
Potentially take overs in the next few years are thus expected. Saint Etienne and Nantes have been close to finding foreign investors. Waldemar Kita, the owner of Nantes, this year started discussions with a hedge fund about the taking over of the club, though negotiations have been halted.