Russia is the world's biggest exporter of natural gas. And for decades, Moscow has been dependent on the pipelines that carried the valuable commodity from its gas fields in northern Russia and Siberia to Western Europe. State energy giant Gazprom still does the majority of its business via these pipelines. They are often the subject of disputes, however, as there are always several countries involved.
The Kremlin is trying to reduce its financial dependency on natural gas. Like other exporters, it's relying more and more on liquefied natural gas, which is created by cooling natural gas until it is condensed into a liquid, thereby allowing it to be transported via tanker rather than through a pipeline. Russia's second-largest gas producer, Novatek, is particularly active in this area. Its CEO, Leonid Michelson, is said to be the richest man in Russia.
Prompted by the cold snap?
For years now, Novatek has been developing a gigantic liquefied natural gas delivery system on the Yamal polar peninsula. Novatek controls 60 percent of the operation, but the French oil company Total is also involved, as are Chinese investors. News that Russian liquefied natural gas from Yamal is being transported to the United States for the first time, via a French intermediary, came as quite the surprise. To the US! Washington is doing everything it can to make it harder for Russia to export gas to Europe. And now the US itself is buying Russian gas?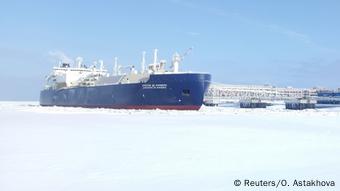 From ports in northern Russia, liquefied natural gas can be shipped worldwide
These circumstances are less spectacular than they at first appear, though. Energy prices in the US have temporarily spiked because of the recent cold snap there. The country suddenly needs natural gas to cope with the severe weather, and it's turning to the international market for a solution. "There's nothing political about it," says Svyatoslav Bikh from the Analytical Center for the Government of the Russian Federation, a Moscow think tank.
Consumers may benefit
Generally speaking, it's difficult for Russia and other states to export to the US. "Prices are low there, because the Americans have enough gas of their own," says Bikh.
It's quite possible that the US will take the occasional tanker of liquid gas from Russia in the future, too. But experts in Moscow believe it will always just be comparatively small amounts.
The US-Russia transaction is indicative of how the energy business is changing all over the world. Transporting gas through pipelines has always meant that trade in the industry was largely regional. Now, with tankers and liquefied natural gas, this business too is becoming increasingly globalized. The competition is getting fiercer. And that's a benefit for consumers, as it keeps prices low.